For Newcomers Renting in Canada, Here's What You Need to Know
The No. 1 question newcomers to Canada and international students looking to rent grapple with when they arrive is, "Where am I going to live?" Temporarily, it may be a hotel, short-term rental, family, friends or a hostel.
In the long term, you will need to find your own accommodation to rent. And, of course, you will need to figure out where to live.
Luckily, newcomers can search for that perfect rental before coming to Canada. Companies (like our site Rentals For Newcomers) are great renting resources for finding and leasing your first rental home in Canada before you arrive.
Start your rental search early
Sites such as Prepare for Canada offer loads of information not only about potential cities where newcomers and international students might consider living and renting but also about how to search for a career and set up your banking (and start building your credit history in Canada, which is very important).
Still, the fact is most renters visit potential rental properties in person or have friends, family, or a real estate agent do it for them.
RELATED STORY: Our latest Housing Newsletter for Newcomers to Canada and International Students
Another option is to look for a room to rent in someone's house.
The overwhelming majority of Canadian property managers and landlords are legitimate and honest. However, it's vital that you ask a lot of questions to avoid scam artists.
Be careful and be aware. 
Friends and family who have already settled in Canada can be an invaluable resource when renting that first home as a newcomer, so consult with them or take them with you. You don't want to be scammed. 
Remember, there is no such thing as a stupid question when it comes to signing a lease.
---
---
First, check out the vacancy and occupancy rates
As Anjali Rego points out in Prepare For Canada, "Vacancy rates are a key driver of rental housing costs in Canada…when you are aware of housing costs, you can decide where you want to live and how much you can afford." Occupancy is also a factor in rental prices.
So what are occupancy and vacancy rates?
The occupancy rate writes Rego, refers to housing demand, while the vacancy rate refers to housing supply. A high vacancy rate in the city means a greater housing supply. This, in turn, can reduce the cost of rental housing. A low vacancy rate in the city will contribute to higher housing costs. 
The vacancy rate is the percentage of all vacant or unoccupied units available for rent at a particular time. So what's the "magic number" for a good vacancy rate (meaning possibly lower rent prices for newcomers renting in Canada)? Generally, a healthy vacancy rate is considered to be around three percent. You can check out this CMHC site for the latest data and get expert predictions for 2022 here.
Some landlords may offer incentives
High vacancy rates can work in your favour (although currently, vacancy rates in Canada are low).
According to Rego, "landlords compete with one another to lease their property; because of this, you have more vacant properties to choose from. When vacancy rates are high, landlords may incentivize prospective tenants to make the property more attractive."
 For example, landlords may: 
lower the rent
offer one month's free rent, parking, or internet
offer upgrades.
Always remember: landlords are eager to find a good tenant and might even agree to rent their properties to newcomers with a lower credit score.
Here's where you should look

Tenants' rights are important, and Canada has strict, enforced laws about this.

Most of the rental housing in Canada is rented out by property management firms or private landlords. Often, you will be negotiating directly with the owner of the rental or a real estate agent hired by the owner to handle the leasing. 

Canadians typically search for rentals through various websites to find apartments and houses listed for rent. In addition to rentalfornewcomers.com, sites used often include RentBoard, Rentals.ca, liv.rent, PadMapper, Kijiji, Craigslist or even local media websites. 
But be careful. Scammers haunt sites such as Kijiji and Craigslist, so be on guard. 

Property managers of multifamily buildings and individual property landlords still display "For Rent" signs in front of their buildings or in the windows of a property they're listing. It's a good strategy to walk or drive through a neighbourhood that interests you and look for rental signage, which usually has a phone number to call. You can even inquire on the spot (and perhaps get the chance to see the rental immediately).
Here's what property managers and landlords require 

Generally, property managers and landlords will ask for these documents when you fill out a rental application:
Bank statements (remember, setting up your banking in Canada is extremely important) to prove you have sufficient funds to pay the rent for a minimum of three to six months.
Proof of your annual income which is often in the form of pay stubs from your current or most recent employment.
A credit check. Landlords want to know that you do not have a bad history. While it's true that many newcomers do not yet have any Canadian credit history, this is not an insurmountable obstacle. But, again, building a good credit history in Canada should be part of any newcomer's goals.
References. These can come from previous landlords, your employer, or other trusted professionals and/or established family members.
Canada is a country of immigrants, and immigration is key to the continued health of the Canadian economy and way of life. It's true that some landlords, when renting, will insist that they need to see Canadian documents; you will discover that there are many out there, specifically on rentalsfornewcomers.com, who are delighted and keen to rent to newcomers. 
In many parts of Canada, and particularly in large cities such as Toronto and Vancouver, there is fierce competition for popular rental locations, so don't expect to be given an apartment on the spot. Property managers and landlords often interview various applicants before selecting the one they feel will be the best tenant. You may have to look at multiple places searching for your new home. 
Having the right documents can help you craft that winning rental application. 

Don't forget to budget for moving costs   
Moving into a new home or moving out, there are always fixed upfront costs. Most often, they include a security deposit, the first month's rent, and usually the last month's rent as well.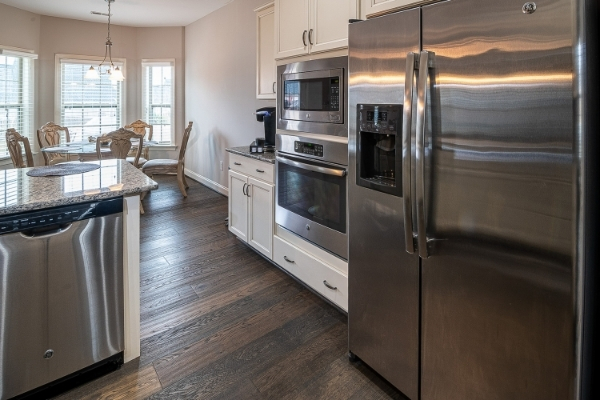 Do you need to pay a damage deposit?
A Security and Damage deposit is usually the cost of one month's rent.
Because Canadian property managers and landlords have to follow strict rules and bylaws, they are most often honest about this, but it's good to check the regulations where you are settling. If you are in doubt, ask questions and consult family, friends and websites such as this one or prepareforcanada.com. 
The deposit is used to pay for any damage that happens while you live in the rental unit. It does not include damage that is beyond your control, which would include external water damage and, of course, normal wear and tear. 
Always remember: leave your unit in the same condition as when you moved in, and you will usually get your entire deposit returned to you with interest. To protect yourself from damage disputes, take and save pictures or videos of the inside of your home, including appliances, on the day you move in.
Who pays for utilities, internet, cable and telephone?
Unless it is already included in your monthly rent price, you may have to pay fees to set up a new account with local utility companies, including electricity, heating, cable, internet, television or even a phone line. Be aware that you may be required to pay a security deposit for these services.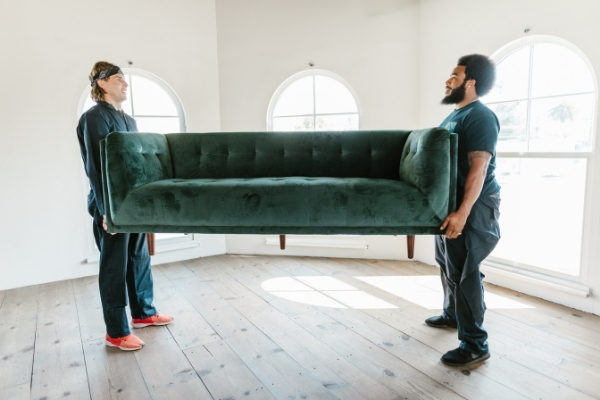 Don't forget to budget for these moving expenses
Newcomers renting in Canada can sometimes overlook these additional moving costs:
Hiring a moving van/truck
Hiring professional movers
Purchasing packing materials, boxes, and tape
Food and drink for friends and family who help you move
Taking the day off work
What about renter's insurance?
A standard renters insurance policy usually covers damage, theft, accidents and property loss. Most renters in Canada get renter's insurance, and many landlords and buildings require it, so it is highly recommended for newcomers and international students as it protects and reimburses you in the event of an emergency.
It's important that you shop around and compare rates from different insurance providers. 
Remember that while you don't own the space, you own the contents. According to Aha Insurance, tenant insurance provides coverage for three things:
Your personal property (things you own, like furniture, electronics and clothes).
Additional living expenses (if you have to live somewhere else while your unit is being repaired under a claim).
Liability coverage (to protect you in case a person is injured or their property is damaged while they're in your space).
Rental move-in dates in Canada
In Canada, standard rental contracts often start on the first day of each month - though some may start on the 15th - so plan your move with this in mind.
It's common that as you move into your rental, the previous tenant is likely moving out the same day. 
Most rental/tenancy agreements often specify that the previous tenant must be out with all of their belongings by noon on a moving day, with the rental left clean. 
Don't forget to get as much help as you can, and also to return the favour when asked. Friends and family are usually happy to help. Just remember to feed and thank them for an important job well done!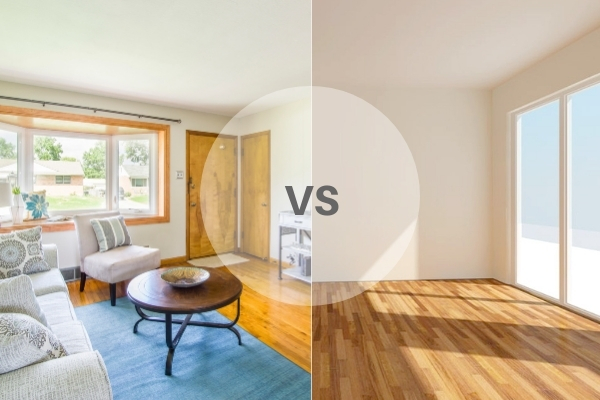 Furnished or unfurnished
Most rentals in Canada come unfurnished, and often there is a substantial price difference between the two types of rentals.
With the usual unfurnished rental, basic necessities such as towels, bedding, pots, pans, silverware, etc. are your responsibility, not to mention the decorations and furniture.
So, it's important to plan and shop wisely for your needs. Check out garage sales, thrift stores, Facebook, etc. Lots of good free stuff can be found online
Also, check whether your building has a Facebook page where residents post items for sale or to give away for free.
Your renting rights as a newcomer in Canada
Landlord and tenant rights and laws can differ from province to province. All of the provinces and territories have their own rules and ways to settle disputes. Here's a handy spot to find all the Canadian tenant rights links you need.
There are, however, some rights that are standard across Canada. As a newcomer renting in Canada, you need to be familiar with these:
the right to at least 24 hours notice before your landlord can enter your residence
a landlord cannot make additional rules or requests that are outside of the law, even if you initially agree to them
a landlord does not have the right to leave any possessions in your residency
a landlord cannot discriminate against you because of your race, ethnicity, religion, gender, sexual orientation, disability, or age (provided you're over the age of 18)
the right to have children living in your home
the right to a safe home in good repair, with properly functioning water, plumbing, electricity, and heating
the right to have the right to a copy of all documents relating to your tenancy
Be aware that your landlord is not permitted to raise your rent by more than a certain percentage each year. Under normal circumstances and barring undo violations on your part, it is up to you, and not the landlord, to decide when you want to end your tenancy. 

Of course, rules governing allowed rental price hikes differ across the country, but most average around a maximum of two to three percent a year.  British Columbia's maximum allowable rent increase of four percent is currently the highest in the country. 
Here are some additional links about newcomers renting in Canada that may help you in your search:
Rent using a real estate agent 
Renting a room in someone's house
What newcomers need to know about tenant insurance
Choosing the right city is the best strategy for newcomers
Why rental insurance is a must
Canadian cities with the cheapest rents for newcomers
Why newcomers need two career plans
What is the difference between an apartment and a condo
Learn more about banking in Canada
Renting your first home as a newcomer in Canada
Cost-saving ideas for newcomers
How much money will I need when I move to Canada
How do I know how much coverage to choose from with a visitor travel insurance policy?
*No AI-generated content was used in the writing of this story, and all sources are cited and credited where possible
© Rentals for Newcomers 2023