Housing Costs for Newcomers Remain Low in Edmonton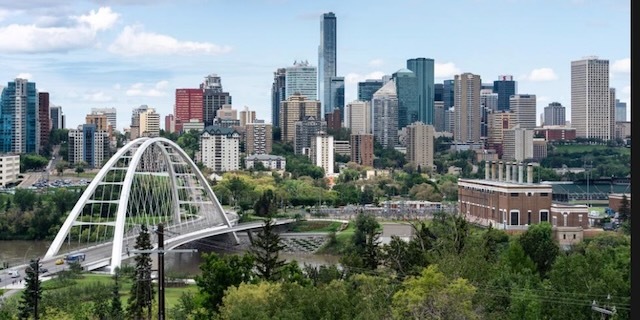 Despite rising interest rates and inflation, Edmonton remains an affordable Canadian city for housing for newcomers, whether renting or buying.
Edmonton, the second largest city in Alberta next to Calgary,  currently has one of the lowest rental costs in the country.
In fact, just three major Canadian cities (Fort McMurray, Regina, Saskatoon, and Lloydminster) offer cheaper rent than Edmonton, according to the latest National Rent Report Rankings from Rentals.ca.
In the national rankings report,  Edmonton placed 31st out of 35 cities surveyed. Just ahead of Edmonton were Windsor, Ontario and Winnipeg, Manitoba, respectively. 
Currently, a one-bedroom apartment in Edmonton in August was priced at $1,071. That's up 1.6 percent from July. A two-bedroom was $1,356, up 1.7 percent month-over-month. 
Compare that to a one-bedroom in Toronto (second behind Vancouver) that rents for $2,329 (an increase of 3.2 percent from July. A two-bedroom in Toronto is $3,266, up just 0.2 percent month-over-month.
A one-bedroom in Vancouver rents for $2,574 (a two-bedroom is $3,694).
Why are Edmonton rents so affordable?
So why does Edmonton, a city of 1,062,643, have such affordable rent prices for newcomers and international students?
"It is mostly driven by the vast amount of primary rental stock in Edmonton," said Michael Mak, a senior analyst with the Canada Mortgage and Housing Corporation (CMHC), recently told the Edmonton Journal.
"There's a government and public sector employment there that is attractive to some builders. Historically speaking, Edmonton had a larger share of rentals than a lot of other Canadian cities," he said. 
According to Prepare for Canada, Edmonton is also an ideal landing place for new immigrants. It has a diverse population and offers helpful support services for newcomers. As well, jobs are readily available for people with all types of skills and abilities.
Edmonton rents are likely to remain affordable
Adi Brar, Market Research and Advertising Manager for Mainstreet Equity Corp., says competition is behind Edmonton's edge when it comes to renting prices.
 "Historically," said Brar, "Edmonton has always had a slight edge on other cities when it comes to available rental stock, ensuring multiple large real estate companies compete with each other for clientele. 
"This often results in companies offering significant incentives which is greatly beneficial for new renters. This trend seems likely to continue for the foreseeable future in Edmonton, another reason we're seeing so many people opting for Western Canada."
Mainstreet is a Canadian-based real estate company headquartered in Calgary, Alberta, that provides apartments to renters in Western Canada.
One in four Edmontonians is an immigrant
Every year, more than 12,000 people move to Alberta's capital from other countries. Immigrants comprise a quarter of the city's population and speak more than 125 languages. 
According to the most recent State of Immigration and Settlement in Edmonton Annual Report (2021), there are 330,035 people of visible minority backgrounds living in Edmonton. They primarily come from South Asian, Chinese, Black, Filipino, Latin American, Southeast Asian, Middle Eastern, Korean and Japanese backgrounds. 
One in four Edmontonians is an immigrant. By 2050, it is anticipated that 50% of our population will be immigrants.
Canada is currently on track to meet or exceed its target of 431,645 new immigrants in 2022 which will certainly increase competition for rentals and homes for sale.
Mak told The Journal that Edmonton rents might rise in the short term as post-secondary students return to class. Increasing migration to Alberta, with those in more costly areas looking for a cheaper lifestyle, may also lead to future rent hikes. 
Edmonton home sales and listings cooled off 
If you're a newcomer planning to buy a home in Edmonton, the city remains an affordable housing market compared to other large Canadian housing markets
According to the latest data from the Realtors Association of Edmonton (RAE),  the area's housing drop continues, with a 12 percent year-over-year decrease in home sales from August 2021.
There is still a fair amount of activity happening in the resale market - Paul Gravelle, chair of RAE
Total residential unit sales in the Greater Edmonton Area (GEA) real estate market decreased 8.3 percent compared to July 2022. There was also a year-over-year decrease of 12.0 percent from August 2021.
The data also showed that new residential listings decreased 10.5 percent month-over-month from July 2022 (though there was a slight increase of 0.9 percent from August 2021.
Here's a breakdown of sales by housing type: 
Single-family home unit sales were down both 17.0 percent from August 2021 and 10.8 percent from July 2022 at 1,034.
Condo unit sales saw an increase of 5.8 percent from August 2021 but were down 1.5 percent from July 2022.
Duplex/rowhouse unit sales were down both 22.7 percent year-over-year and 15.0 percent from last month.
And here's a breakdown of the sale prices by housing type: 
Single-family homes averaged $469,757, a 1.8 percent year-over-year increase and a month-over-month decrease of 4.1 percent.
Condominiums sold for an average of $220,051, seeing a small decrease of 3.3% year-over-year and 4.2 percent when compared to July 2022.
Duplex prices increased 1.5 percent from August 2021, selling at $360,570, but saw a 3.3 percent decrease from July 2022.
 The composite benchmark price in the GEA for all types of homes was $399,300. That's a 4.3 percent increase from August 2021, with a small decrease of 2.8 percent recorded from July 2022.
By comparison, current Toronto MLS stats reveal an average house price of $1,058,611. Vancouver MLS stats show an average house price of $1,461,616.
Nationally, Canadian home sales fell for the sixth month in a row, writes Scotiabank housing economist Farah Omran, dropping by 1 percent month over month in August, while listings retreated by 5.4 percent month over month. 
Paul Gravelle, the chair of RAE, said that "while we continue to see the Edmonton real estate market cooling down after a record-breaking period earlier this year, there is still a fair amount of activity happening in the resale market."
He added that "although we've seen average prices decrease month-over-month across the board, single-family home prices are still above average from this time last year."
Single-family homes averaged 37 days on the market, seeing an increase of four days from July 2022. Condos averaged 54 days on the market, increasing by two days month-over-month, while duplexes averaged 37 days on the market, a three-day increase compared to last month.
 Overall, all residential listings averaged 42 days on the market, increasing by three days month-over-month, with no change recorded when compared to August 2021.
According to a recent report from WOWA, Edmonton housing prices have increased only 14 percent over the past 15 years.
WOWA.ca is a real estate and finance technology industry used by over 4 million Canadians annually
Among Canada's five major housing markets (which also include Toronto, Montreal, Vancouver, Ottawa and Calgary), Edmonton's is the most affordable. The Wawa reports points out that  Toronto's composite benchmark price between March 2020 and March 2022 has increased by $497,000. 
"This biennial change in Toronto can buy a relatively spacious detached house in Edmonton," states the report, which also notes the relative absence of investor real estate speculation in the Edmonton market which contributes to an ample house supply.
As  WOWA.ca points out, Alberta has the fourth-largest oil reserves in the world after Venezuela, Saudi Arabia, and Iran. Most of Alberta's oil reserves are in the northern part of the province, where Edmonton is the only major city. Supporting oil and natural gas extraction and transportation activities creates many jobs in Edmonton.
So, if you're a newcomer planning a life in Edmonton, housing remains affordable whether you plan to rent or buy now, or later.
"Edmonton is one of the few major Canadian cities with all the fundamentals in place – affordability, high wages, good prospects for employment and entrepreneurship, a growing and vibrant city life, strong infrastructure, world-class educational institutions, and a young population," said Mainstreet's Brar. 
"Given how unaffordable it has become for many people to live in cities like Vancouver or Toronto, it was only a matter of time before people started looking for more affordable options."
RELATED STORIES:
Why do I need Canadian renter's insurance?
Here's how newcomers can impress a landlord
How newcomers and students can avoid rental scams 
Tips for international students about renting in Canada
Insurance in Canada: what newcomers need to know
Tips for finding affordable housing 
Choosing the right city is the key to success
Settlement support is essential