Newcomers to Canada Moving Quickly to Buy Their First Home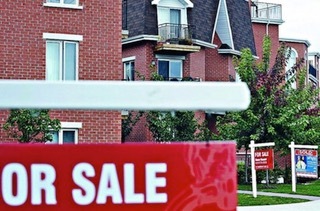 Newcomers to Canada are looking to buy their first new home faster than ever.
That's the findings from a survey by Ipsos Public Affairs cited in a year-end market analysis by the Toronto Regional Real Estate Board (TRREB).
 As reported by Shane Dingman in the Globe and Mail, the research firm studied the route immigrants take to homeownership.  A key insight showed that a large percentage of newcomers to Canada are homebuyers within their first five years of arriving.
Survey debunks mythology of the struggling immigrant
 Another important piece of data showed that immigrants to Canada are overall more focused on owning a home than non-newcomers.
"We have this mythology of the poor immigrant coming in and they are going to be renting undesirable apartments for years and struggle to get jobs and education," said Sean Simpson, vice-president, Canada, Ipsos Public Affairs in The Globe. "Certainly that's the experience for some groups. What this data is showing us is, after a couple of years, many of them are doing what the rest of us are able to do – and that's buy a home."
The GTA remains the primary destination for new immigrants and is at the centre of the Canadian economy. For far too long, governments have focused on short-term band-aid policies to artificially suppress demand,- TRREB Pres. @kevin_crigger. https://t.co/5pLnKGSvsg@storeyspub

— Toronto Regional Real Estate Board (@TheReal_TRREB) February 9, 2022
The familiar settlement pattern for many newcomers to Canada is to arrive, get a short-term rental, then a longer-term rental and then, for most, buy that first home.
The majority of newcomers arrive with savings to buy a home
The Ipsos results mirror a pre-pandemic study by Royal LePage. That 2019 survey found that even though 75 percent of newcomers arrive with savings to buy a home, the average time immigrants wait to purchase a home is three years. The study also found that one in five homes is purchased by Canadian newcomers.
Significantly, the Royal LePage study also showed that 82 percent of newcomers choose to stay in their first city of residence, driving home the importance for newcomers of settling in a city where the price of a house is affordable.
Over the next three years, Canada expects to see minimum population growth of 1.2 million through immigration, a figure that Immigration Minister Sean Fraser has hinted may rise. The demand for homes to buy will certainly increase, and likely across all provinces.
A shortage of housing is driving up the price for newcomers
Immigration to Canada drives both the home buying and rental markets. Currently, in many parts of Canada, there is a severe supply problem when it comes to the availability of homes to buy. Recent statistics from the Toronto Regional Real Estate Board (TRREB) highlight this dilemma.
According to the latest data from the Canadian Real Estate Association (CREA), there were in total 666,995 residential home sales in Canada in 2021. That's a new record high, surpassing by more than 30 percent the average over the last 10 years. 
But despite record sales, a historic shortage of houses for sale continues to drive up prices for potential newcomer homebuyers in Canada's main housing markets, according to a new Housing report from Scotiabank.
Farah Omran, the author of the January Scotiabank report, says that in 31 markets tracked by Scotiabank, listings went down in 21. Of the 10 markets where listings increased, sales went up in six, which is "indicative of the tight supply conditions limiting sales activity relative to demand."
Newcomers to Canada attracted to Peel Region
The Ipsos online survey,  which sampled 1,000 potential home buyers and 2,500 homeowners, discovered that among the newcomers living in Toronto, 49 percent now own homes after being here less than five years. 
Newcomers were also very attracted to Peel Region (Mississauga, Brampton and Caledon), the survey found. 
Among the  Peel homeowners who were surveyed, 43 percent had landed between six and 10 years ago. And 32 percent had landed within the past five years.
The survey also found: 
- 38 percent of the homeowner respondents surveyed were newcomers to Canada
-  50 percent of those had been in Canada for over 21 years
- 23 percent arrived between 10 and 20 years ago 
- 27 percent had landed in Canada in the past 10 years. 
- 33 percent of the immigrants surveyed who did not already own a home told Ipsos they were likely to buy a home. That's compared to 26 percent of the general population.
Given the high cost of housing in Canada, particularly in popular gateway cities like Toronto, Montreal and Vancouver, it's not surprising that the Ipsos survey shows that newcomers are more than twice as likely to shop for a semi-detached home than other home shoppers.
"Obviously, the difference in price between gateway and secondary cities is significant 
That's why Dave Frattini, Managing Partner Destination Canada Information Inc. (Prepare for Canada and Rentals for Newcomers), advises prospective newcomers to Canada with a plan to eventually buy their own home to give some attention to trends in the housing market where they first plan to settle.
"According to the Re/Max Fall Housing Market Outlook," writes Frattini "the average price for a single-detached home in Toronto is $1,692, 925. In Vancouver, it's $1,927, 953.  But in a secondary city such as Ottawa it's $775,020, in Halifax it's $402,484, and in Regina, it's $323,600. 
"Obviously, the difference in price between gateway and secondary cities is significant. (Newcomers) might want to factor this into choosing a city/settlement/job and home buying strategy. Especially considering Canadian housing prices are forecast to grow by double-digits in 2022."
"The decision to land in a large city like Toronto or a smaller city such as Ottawa can have a big impact on a newcomer's plans and ability to eventually buy a house," said Frattini. 
Home equity is a key source of Canadian wealth
A  recent MoneyWise story in the Financial Post cited Fredericton, New Brunswick, Edmonton, Alberta, Saskatoon, Saskatchewan and Winnipeg, Manitoba as four interesting secondary Canadian cities where homes cost well below the national average.
The Ipsos survey data suggested that immigrants, in discussing what price they would be willing to pay for a home and who are looking to pay more than $700,000 for their first home, indicated that they would be open to paying nearly $100,000 more than the average Canadian-born buyer.
Home equity is one of the main sources of wealth in Canada. A study by the Canadian Bankers Association shows that  Canadians have significant equity in their home, averaging about 73 percent of the home's value.
Boosting the housing stock in Ontario
According to a recent Scotiabank report by Jean-François Perrault, Canada now has the lowest housing stock of any G7 country. Ontario, Manitoba and Alberta have the fewest homes per capita. The report points out that It would take 650,000 homes to bring Ontario up to the same level as the rest of Canada. 
Ontario's Housing Affordability Task Force, in a report that has just been published, lays out five key strategies that focus on building housing, reducing red tape and lowering development costs, with an ultimate goal of adding 1.5 million homes over the next 10 years to solve home supply shortages.