Newcomers to Canada Facing Rising Rent Prices Everywhere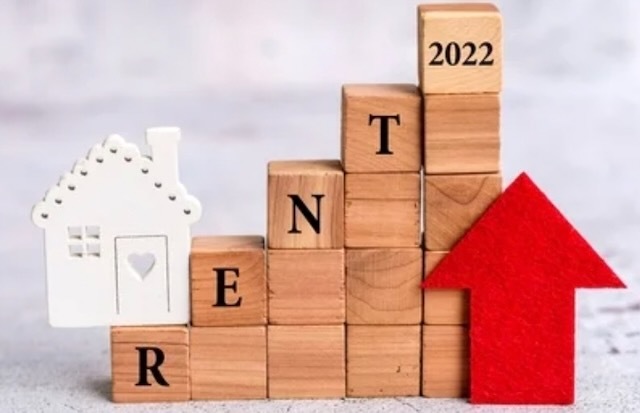 Newcomers to Canada and international students are being greeted by rising rent prices across the country. 
The average rent nationally rose 10.4 percent year-over-year in July, according to the latest National Rent Report from Rentals.ca and Bullpen Research and Consulting.
The report shows that the average rent for all property types (single-family homes, townhouses, rental apartments, condominium apartments and basement apartments) was $1,934 in July.
Immigration's impact on rent prices is significant
That's up 10.4 percent compared to July 2021.
Canada is on target to welcome record numbers of new immigrants between 2022 and 2024. Housing experts predict this will have a significant impact on rent prices and vacancy rates. 
The country hit a record-breaking level of immigration in 2021 with 405,970 new permanent residents. Canada is on track to welcome 431,645 permanent residents this year, with targets of 447,055 for 2023 and 451,000 in 2024.
The results of a recent Scotiabank research study into the experiences of newcomers as they move to Canada revealed that high rental costs were one of their key challenges. High rent prices contributed, the study showed, to newcomers feeling worried, overwhelmed, and confused by their finances and navigating through the Canadian banking system.
Getting the right documentation and identification, signing up for a mobile phone and credit card, and finding employment were also identified as common worries among newcomers to Canada. 
Rents near pre-pandemic levels
Interestingly, the Rentals.ca report discovered that the average rent in July 2022 was only $20 shy of the September 2019 pre-pandemic high of $1,954.
According to Bullpen Research and Consulting president Ben Myers "rents were boosted by rent growth (or increases) of 20 percent and higher in several major municipalities in Canada, and double-digit growth in a number of the most affordable rental markets, such as Red Deer and Saskatoon."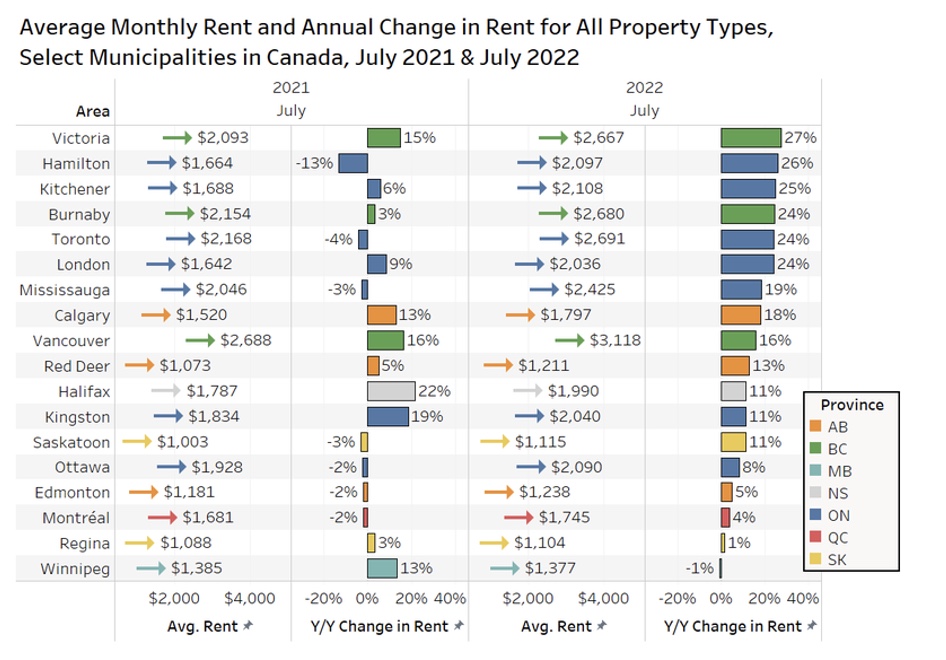 The average rent from June to July rose 2.6 percent. That is the second-highest monthly jump in three years, 
In July, the median rental rate was $1,799. That's up from $1,750 in June and is a nine percent hike from $1,649 in July the previous year. 
So what's behind the continued escalation in rent prices?
Rental market strong in the face of recession fears
The number of immigrants and international students entering Canada continues to surge. The report notes that  "immigration remains elevated, and the unemployment rate nationwide remains near historic lows, so despite some recession fears, the rental market demand remains strong."
The Rentals.ca report also cites workers returning to the office as a factor. 
Dan Campanella, a broker with Keller Williams Advantage Realty, recently described the Toronto rental market as "on fire," largely because of prospective first-time buyers who now, due to rising interest rates and inflation, can't afford a home.

"When their purchasing power drops significantly, they can't buy their first condo, but they still need to move downtown, so now that means there are more and more people looking for rentals," he told Tara Deschamps of Canadian Press. 
In its survey of 35 Canadian cities, Rentals.ca  found Vancouver was first with the highest average monthly rent for a one- and two-bedroom home in July of this year at $2,500 and $3,630, respectively.
Vancouver also led in year-over-year rent price increases of 14.4 percent and 19.4 percent.
Toronto fourth for highest overall rent prices
The average rent in Toronto for July rose 21.6 percent year-over-year to $2,257 for a one-bedroom home and 25 percent to $3,259 for a two-bedroom home placing Toronto fourth on the list for highest rent prices.
British Columbia had the highest average rent for all property types in July at $2,590, up 19 percent year-over-year.
Ontario came in second with average rent up 15.2 percent to $2,332 year-over-year. In comparison, Nova Scotia ranked third after average rent rose significantly in July by 25 percent year-over-year to $2,222.
Rental apartment prices rose 7.7 percent
Nationally, rental apartments, which comprise most of the listings on Rentals.ca, saw a year-over-year increase of 7.7 percent to $1,743 in July.
On a provincial level, British Columbia had the highest average rents in July at $2,590 per month for all property types, up 19 percent year over year.
Ontario had the second highest average rent in July at $2,332 per month, an increase of 15.2 percent annually.
Manitoba was the only province to see its average rent decrease in July 2022 compared to July 2021, although it only represented a slight drop of $3 to $1,377.
Renters are looking at smaller communities
In their monthly Rental Demand Report, Rentsync noted that "July witnessed the acceleration of recent market trends with renter interest growing at a disproportionately high rate, while available supply slowly shrinks."
The Rentsync report also noted that "many renters are also beginning to look to smaller communities recognizing the lessened availability of units in primary markets which further spreads the increased load of rental demand."
 Renters, it says, have also continued expanding the scope of their rental searches.
Renters are advised to go west 
If you're looking for the cheapest places in Canada to rent, where should you look?
Bullpen's Myers told Yvette Brend of CBC News to head to the prairies. He recommended Red Deer or Lethbridge in Alberta or Saskatoon in Saskatchewan. 
"You can get a two-bedroom for under $1,150 a month. It's all about where you can work," said Myers. 
Calgary is an amazing city for its public art installations. One of our favorites is the Wonderland Sculpture by Jaume Plensa, a Spanish sculptor. You can find this incredible sculpture downtown in the plaza of the Bow building on 500 Centre St SE.

📸@motherpixels on IG pic.twitter.com/8m0nDFeiw0

— Mainstreet Equity Corp. (@RentMainstreet) August 14, 2022
Jesse Greenwell, the Head of Communications, Culture, and Inclusivity for Calgary's Mainstreet Equity Corp, told Rentals for Newcomers that  "this (Rentals.ca) report makes clear that Western Canada - and the Prairies in particular - continue to offer the best affordable options to anyone looking for rentals."
He also cites Saskatoon (and Edmonton) as cities offering cheaper rent prices that have much to offer newcomers to Canada and international students in terms of both affordability, lifestyle and world-class educational institutions.
"The combination of educational, economic, and entrepreneurial opportunities found in Western Canada really offers the region a competitive edge," said Greenwell. 
Getting a roommate can help fight rent prices
Meanwhile, the Globe and Mail's financial columnist Rob Carrick offers this solution to the challenge of rising rent prices and shrinking vacancy rates. 
'Mathematically, a solution to the rental affordability problem is to get a two-bedroom unit with a roommate or partner. Rentals.ca says the average Toronto two-bed rent was $3,259 in July – apply two average salaries for the city to that cost, and you get a rent-to-income ratio for each roommate of 35 percent. Again, that's a win in today's rental market."
Carrick also advises that moving further away from urban cores can be an affordability solution, pointing out that the average one-bedroom rent in Hamilton, just west of Toronto, is 25 percent cheaper at $1,694 a month. 
Advice for newcomer renters
Finally, Mainstreet's Greenwell offers this advice for newcomer and student renters in competitive rental markets such as Toronto and Vancouver:
"It's also important (that renters) adjust their expectations if they are seeking to rent in highly-competitive markets, both in terms of what they will need to apply and be approved and what they should expect their rental to offer."
 He advises that including more information and anything which might make you seem like an appealing tenant (for example, landlord references from previous landlords, a letter introducing yourself, etc.) can help to secure rentals in these competitive market conditions. 
Factor in transportation costs
In terms of adjusting expectations, one example, says Greenberg, would be that it's often cheaper to find a building located near important amenities such as gyms rather than those which include such amenities and factor that into the rent prices.
 Greenwell also urges renters to consider things such as transportation options to and from employment or school.
 "Using public transit efficiently can save time and significant amounts of money from vehicle maintenance to parking and insurance costs."