Interest Rate Hike Uncertainty Slowing Home Sales in Canada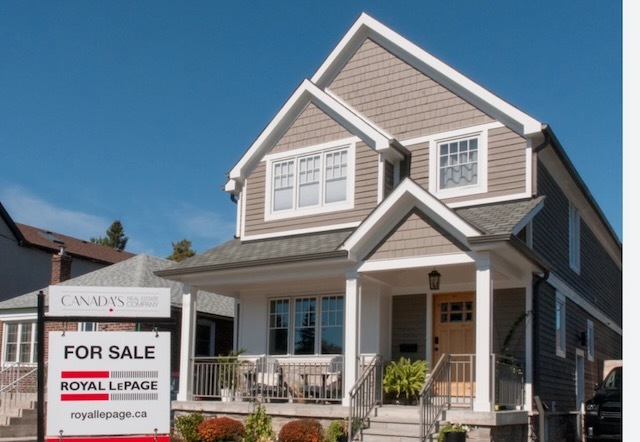 Home sales in Canada slid sharply in August due to the uncertainty about interest rate hikes created by the Bank of Canada's actions. 
"The uncertainty effect created by the Bank of Canada's actions (two summer rate hikes) continues to be the most likely factor behind the slowdown in (home sales) activity," says Scotiabank's leading Housing Economist Farah Omran in her most recent housing report. 
Housing sales nationally fell 4 percent in August from July as those higher interest rates deterred potential buyers thus causing the market to slow, according to the most recent data from the 
Canadian Real Estate Association (CREA). 

In August, seasonally adjusted home sales across Canada were 38,345.  That's down 4.1 percent from July of this year.

Also, the seasonally adjusted number of home sales fell for a fifth consecutive month in August (though home sales in August rose 5.3 percent from August of 2022) year.
RELATED STORY: Our latest Housing Newsletter for Newcomers to Canada and International Students
Omran points out that August's monthly increase was led by the sales of townhomes and condos (1 percent and 0.9 percent), with just a 0.3 percent gain in the sale of single-family homes. 
The interest rate sits at 5 percent for now
The Bank of Canada hiked interest rates in July of this year to five percent. That pushed the average interest rate charged on a home mortgage above 7 percent. That's the highest level in more than 20 years.

The July hike, combined with one in June, has prompted many potential homebuyers to stay out of the market while they wait for interest rates to come down. A seven percent interest rate on a mortgage also means that many homebuyers would not qualify for a mortgage from one of Canada's traditional banks.
More rate hikes are possible
With many Canadian homeowners struggling with the impact of higher payments, does that rule out more hikes from the Bank of Canada?
Not necessarily, David Macdonald, a senior economist at the Canadian Centre for Policy Alternatives, told CTV News Channel's Akshay Tandon. Macdonald warns that if October's inflation numbers are higher than expected it will "almost certainly" lead to another rate hike.
Some buyers despair about owning a home
Reporting in storeys.com, Zakiya Kassam writes that, according to a new report from Mortgage Professionals Canada (MPC), 48 percent of non-homeowners now think they will never be able to purchase a home (that figure has risen 15 points since December of last year).
Also, only 17 percent of current non-owners said that they are planning to buy a home in the next two years (that share has fallen five points over the past six months).
Homebuying strategies are changing
Of those current non-owners who are still planning to buy at some point, 77 percent told MPC that they will need to change their purchasing plans because of the current interest rate situation. And  30 percent said they will delay their homebuying plans indefinitely.
At the moment, the consensus amongst economists appears to be that the Bank of Canada holds its key interest rate at 5.00 percent for the remainder of 2023, but that could change.
Meanwhile, newcomers to Canada are looking to buy their first new home faster than ever.
A 2022 study by the research firm Ipsos Public Affairs found that many newcomers to Canada are homebuyers within their first five years of arriving. That confirms a similar 2019 pre-pandemic study by Royal LePage that found that although 75 percent of newcomers arrive with savings to buy a home, the average time immigrants wait to purchase a home is three years. The study also found that Canadian newcomers purchase one in five homes.
Newcomer arrivals set new records
Canada plans to welcome 465,000 new immigrants this year after admitting a record-breaking 431,000 newcomers in 2022, mainly from India, the Philippines and China.
The country hopes to land 485,000 newcomers in 2024 and 500,000 in 2025. Canada has also welcomed a record number of international students, with those numbers continuing to rise. 
Alberta is a population hotspot
According to new annual population estimates from StatisticsCanada data, Alberta's population continues to soar. 
As of July 1, 2023, Alberta was home to 4.7 million people. That's just over four percent higher than the same date in 2022. That adds up to an additional 184,400 people.
Ann-Marie Lurie, the chief economist for the Calgary Real Estate Board told the CBC that she's not surprised by the record numbers. She told CBC's Joel Dryden that when it comes to local housing markets, sales activity has been exceptionally strong, especially in the second half of the year so far.
"We continue to see price gains, especially in markets like Calgary, where we not only have seen prices [rise] over the past several months, but we have hit new record highs," Lurie said, linking that to both immigration and interprovincial migration.
Other provinces, including Ontario, Manitoba and Saskatchewan, also saw their population increase at rates never observed since data started to be recorded, largely driven by a surge in international migration.
Homes are selling in Toronto and Vancouver

Still, home sales remain strong in the "gateway" cities of Toronto and Vancouver, which are Canada's two strongest markets and the most popular settlement spots for newcomers to Canada. Sales in smaller cities such as Ottawa and Montreal have declined, according to CREA.

The seasonally adjusted average price of a home in Canada now sits at  $674,184. That's a decline of 2.3 from July to August. 
What should newcomer homebuyers expect?
Meanwhile, as home prices have slowed in central Canada and some parts of the western prairie provinces, Quebec and Atlantic Canada saw home prices continue to grow. 
So what should newcomers to Canada eager to buy a home expect from the fall Canadian housing market?
"Most people put their homebuying plans on hold in the summer, but buyers – both investors and homebuyers – will be back from the summer hiatus with renewed energy and focus," predicts Lauren Haw, Zoocasa's  Broker of Record and Industry Relations Officer.
Buyers expected to return in the fall
Zoocasa also points out that sales activity for this summer has surpassed last year in most major markets, including Greater Vancouver, Greater Toronto, Calgary, and Hamilton-Burlington. Thus,  although home sales activity has slowed, it remains an improvement over 2022 and indicates that interest rate hikes are actually not deterring those Canadians determined to buy now. 
However, Haw said that while eager buyers are expected to return in the fall, it's unlikely that sellers will be as enthusiastic about the current market. 
Back in the "wait and see" territory
"Sellers, afraid of the rate rise and quiet media over the summer, will wait through September to see what prices do before deciding to list or not," she said.
Omran says that we're back into "wait-and-see territory."
"Buyers are awaiting more information and certainty on the future path of rates, inflation, and economic activity," she said. "Are more hikes coming? Are cuts coming sooner? Will I lose my job? Will home prices follow the slowdown in sales? These are amongst the many uncertainties currently keeping potential purchases on hold."
Larry Cerqua, the chair of CREA predicted that "with sales slowing and new listings returning to more normal levels, demand and supply are continuing to come into better balance."
Canada's housing market will not fully recover, according to CREA,  until the Bank of Canada ends its current monetary policy tightening strategy.
Even in the depths of past shocks like the harsh recession of the early 1990s, Canadians still paid their mortgages - Derek Holt, Scotiabank
But what will happen if the Bank of Canada continues to raise interest rates?
Derek Holt, Scotiabank's Vice President and Head of Capital Markets Economics, says Canadians can weather a mortgage storm.
"A common narrative," said Holt, "is that Canada has more indebted households than many other countries and hence greater vulnerability to higher borrowing costs than some other countries like the U.S. because of shorter mortgage terms that reset more rapidly than in the U.S. with its very long terms."
Holt says that combination "could derail the economy, limit the potential for further rate hikes to control inflation and spark a policy reversal by the Bank of Canada."
Canadians will pay their mortgages
"The economy should be reasonably well positioned to withstand the effects (of that) notwithstanding the valid point that the high-level macroeconomic consequences understate the challenges that will be faced by some households and some lenders more than others. 
Holt points out that "lenders and borrowers exist in a system that is often more collaborative in nature. Even in the depths of past shocks like the harsh recession of the early 1990s, Canadians still paid their mortgages as the delinquency ratio remained very low."
Interest rates to stay higher for longer
Still, with interest rates now expected to remain higher for longer, many Canadian homeowners who locked in low rates years ago are undoubtedly readying for financial stress as their mortgage comes up for renewal. 
"Each month that passes, roughly two percent of mortgage holders face renewal at sharply higher interest rates," says Royce Mendes, managing director and head of macro strategy at Desjardins.
As for housing prices going forward, Shaun Cathcart, CREA's Senior Economist, thinks the slowdown by buyers will keep them from rising. 
Housing affordability set to erode short-term
 "August was the first full month of housing data following the Bank of Canada's July rate hike, so a dip in activity was expected," said Cathcart. "The demand is obviously still there, and it will be back, but as the housing affordability crisis re-emerges as a top policy issue, for now, the slowdown on the buyer side should help keep a lid on prices."
Looking ahead to 2024, RBC assistant chief economist Robert Hogue predicts that while  "housing affordability looks set to erode in Canada in the third quarter, unfortunately...(but) we see a turning point taking shape once rates and prices stabilize."
Houge said,  "We think an improving trend will emerge in 2024, and more clearly so after the Bank of Canada starts cutting rates — around mid-year in our view."
*Rentals for Newcomers used no AI-generated content in the writing of this story, and all sources are cited and credited where possible.
© Rentals for Newcomers 2023