Donate to the Ukraine Humanitarian Crisis Appeal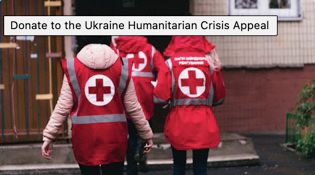 As the crisis in Ukraine worsens and more people flee the invasion, Canada is readying to accept newcomers from that war-torn country. But the people of Ukraine need our help now. 
Robert Mardini, the director-general of the International Committee of the Red Cross, said that the ongoing Russian war on Ukraine has become "nothing short of a nightmare" for those living in besieged cities. He called for safe passage out for civilians and humanitarian aid to be allowed through the front lines.
Mardini also called the war "catastrophic" for civilians affected by the fighting as people run out of drinking water, food, medical supplies and fuel for heating. Medical facilities also continue to be targeted in attacks.
If you would like to donate to the Ukraine Humanitarian Appeal, Prepare for Canada and Rentals for Newcomers are providing a link to the Canadian Red Cross. You can donate by clicking here. 
Thank you.
Hear from Canadian Red Crosser Kelsey Lemon, Vice-President for International Cooperation & Programs, on how support from Canada is helping those affected by ongoing conflict in #Ukraine:
"They are incredibly grateful for our support."https://t.co/Dth2GNzIL2

— Canadian Red Cross (@redcrosscanada) March 7, 2022