The Halo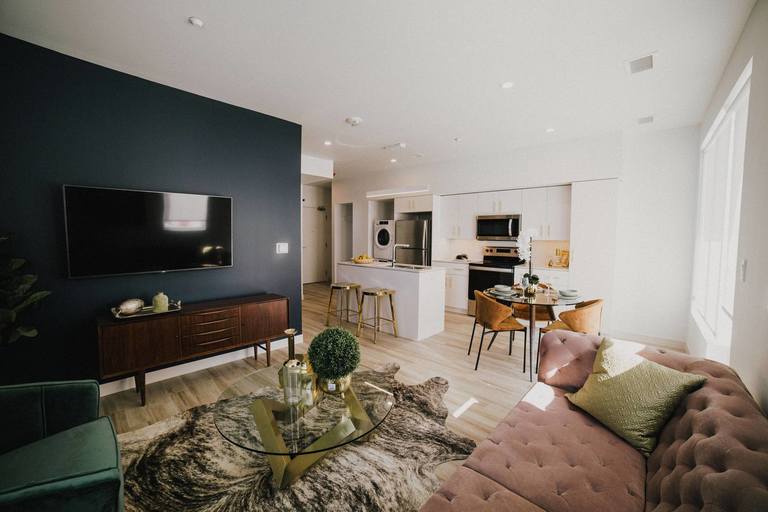 3025 Pembina Highway, Winnipeg, MB, R3T 2H5
$1460 - $4100
1 - 3 Bedrooms
Located at 3015 & 3025 Pembina Highway and offering 400+ luxury rental units and 8,400+ square feet of commercial retail space arriving 2023 The Halo will offer a highly curated selection of 1, 2, and 3 bedroom apartment homes and will be the pinnacle of rental living.  Meticulously designed by local architectural firm Affinity, the build materials and finishes have been hand-selected by our expert team to create a feeling a calm, beauty, and opulence.  
The Halo has been designed to be different.  From the build quality, to finish materials, through to the robust amenity offering, this unique community will truly be a cut above. Inquire now to join on mailing list to receive periodic construction updates, and please feel free to reach out with any questions directly.  
This team is different. This building is different.  This lifestyle is different.  If you want to live better, we'd ask you to consider The Halo.  There is a better way to rent, and it's here.
Rental Information
| Bedrooms | Bathrooms | Size | Rent |
| --- | --- | --- | --- |
| N-Celest | 1 | 585 sqft. | $1460 |
| N-Celest | 1 | 585 sqft. | $1480 |
| N-Celest | 1 | 585 sqft. | $1480 |
| N-Celest | 1 | 585 sqft. | $1500 |
| N-Celest | 1 | 585 sqft. | $1500 |
| N-Glory | 1 | 650 sqft. | $1520 |
| N-Aurora | 2 | 877 sqft. | $1820 |
| N-Aurora | 2 | 877 sqft. | $1840 |
| N-Celest | 1 | 585 sqft. | $1500 |
| N-Helia | 1 | 625 sqft. | $1500 |
| N-Aurora | 2 | 877 sqft. | $1820 |
| N-Celest | 1 | 585 sqft. | $1520 |
| N-Celest | 1 | 585 sqft. | $1500 |
| N-Celest | 1 | 585 sqft. | $1520 |
| N-Glory | 1 | 650 sqft. | $1540 |
| N-Halley | 1 | 728 sqft. | $1690 |
| N-Aurora | 2 | 877 sqft. | $1840 |
| N-Aurora | 2 | 877 sqft. | $1860 |
| N-Celest | 1 | 585 sqft. | $1540 |
| N-Aurora | 2 | 877 sqft. | $1840 |
| N-Aurora | 2 | 877 sqft. | $1860 |
| N-Celest | 1 | 585 sqft. | $1560 |
| N-Celest | 1 | 585 sqft. | $1540 |
| N-Celest | 1 | 585 sqft. | $1560 |
| N-Glory | 1 | 650 sqft. | $1560 |
| N-Halley | 1 | 728 sqft. | $1690 |
| N-Leda | 3 | 1892 sqft. | $4000 |
| N-Nova | 1.5 | 1460 sqft. | $3500 |
| N-Pluto | 3 | 1754 sqft. | $3600 |
| N-Pluto | 3 | 1754 sqft. | $3700 |
| N-Blaze | 1.5 | 1170 sqft. | $2500 |
| N-Alexan | 1.5 | 1315 sqft. | $2700 |
| N-Aurora | 2 | 877 sqft. | $1860 |
| N-Celest | 1 | 585 sqft. | $1580 |
| N-Celest | 1 | 585 sqft. | $1560 |
| N-Celest | 1 | 585 sqft. | $1580 |
| N-Halley | 1 | 728 sqft. | $1710 |
| N-Leda | 3 | 1892 sqft. | $4100 |
| N-Nova | 1.5 | 1460 sqft. | $3600 |
| N-Pluto | 3 | 1754 sqft. | $3800 |
| N-Pluto | 3 | 1754 sqft. | $3900 |
| N-Alexan | 1.5 | 1315 sqft. | $2900 |
| N-Blaze | 1.5 | 1170 sqft. | $2700 |
| N-Aurora | 2 | 877 sqft. | $1860 |
Pet Policies
Amenities
All Utilities Included
Electric Vehicle Charging Stations
5-star lobby
Eat-in kitchen with soft-close cabinetry
High-end stainless steel appliance package
Custom tile backsplash and accents
Rooftop and podium-level patio spaces
Indoor dog park and dog wash
Luxury vinyl plank floors throughout
Fitness center with Peloton® Bikes
Luxury stone countertops
Indoor car wash
LED pot lights and modern pendant lighting
Architecturally inspired feature-wall
Energy-efficient windows
Secure parking and bike storage
Front loading in-suite laundry
Multipurpose Room
Contacts
The Halo