Cité L'Acrobate Inc.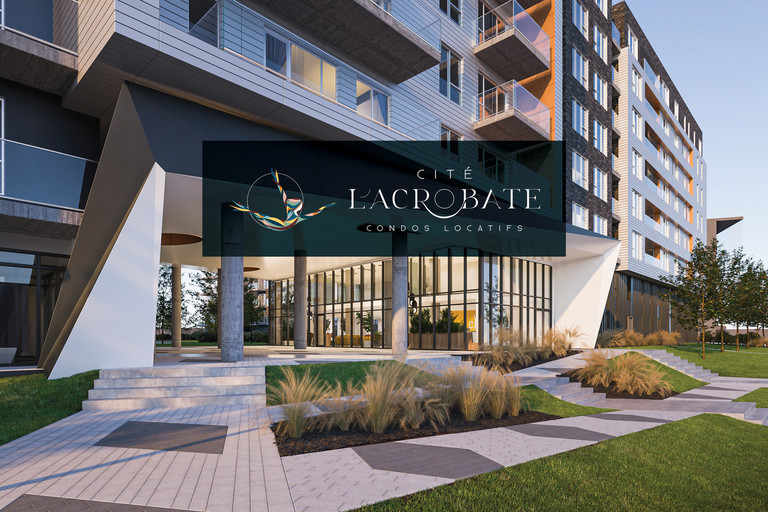 8205 ave du Cirque, Montreal, QC, H1Z 0B5
$1340 - $2690
0 - 3 Bedrooms
Come and marvel at L'Acrobate, a living space aligned with your tastes and needs in the heart of a dynamic community. Elegance, agility, virtuosity, and vivacity are the bywords of L'Acrobate, with its tailored condos where lightness and modernity blend in perfect harmony. Like L'Acrobate, always on the move, you will discover in your new neighbourhood the promise of grand gateways in nature and the amazement of living surrounded by the circus world.
L'Acrobate. Naturally elegant condos within your reach in an environment that will satisfy your greatest need for freedom. The outdoor condos of Montreal.
Discover a lively and distinguished living space surrounded by nature and spiced with the flavours of the world. Start with a stroll in the 48-hectare Frédéric Back Park, embark on an adventure at the Champdoré Park or enjoy the thrills promised by Taz, Canada's largest indoor skatepark. The neighbourhood also offers everything you need to satisfy your palate, with the renowned Portuguese grill O Cantinho or dishes from Haiti and Vietnam for those who want to keep travelling. You can also stroll between the teeming stalls of the city's primary flea market or stop in the cafes and grocery stores of Petit Maghreb for an expedition to the lands of North Africa.
L'Acrobate offers you to live in the middle of the adventure, in a neighbourhood open to the world and surrounded by lush green spaces
Rental Information
| Bedrooms | Bathrooms | Size | Rent |
| --- | --- | --- | --- |
| 2 beds, 1 bath | 1 | 875 sqft. | $2080 |
| 2 beds, 1 bath | 1 | 855 sqft. | $2040 |
| 2 beds, 1 bath | 1 | 875 sqft. | $1930 |
| 2 beds, 1 bath | 1 | 855 sqft. | $1910 |
| 2 beds, 1 bath | 1 | 962 sqft. | $2150 |
| 2 beds, 1 bath | 1 | 849 sqft. | $1950 |
| 2 beds, 1 bath | 1 | 892 sqft. | $2020 |
| 2 beds, 1 bath | 1 | 862 sqft. | $1960 |
| 2 beds, 1 bath | 1 | 902 sqft. | $2050 |
| 2 beds, 1 bath | 1 | 952 sqft. | $2160 |
| 2 beds, 1 bath | 1 | 887 sqft. | $2010 |
| 2 beds, 1 bath | 1 | 916 sqft. | $2080 |
| 2 beds, 1 bath | 1 | 882 sqft. | $2000 |
| 3 beds, 2 baths | 2 | 1081 sqft. | $2530 |
| 2 beds, 1 bath | 1 | 905 sqft. | $2070 |
| 2 beds, 1 bath | 1 | 862 sqft. | $1960 |
| 2 beds, 1 bath | 1 | 902 sqft. | $2050 |
| 2 beds, 1 bath | 1 | 952 sqft. | $2160 |
| 2 beds, 1 bath | 1 | 887 sqft. | $2010 |
| 2 beds, 1 bath | 1 | 950 sqft. | $2160 |
| 2 beds, 1 bath | 1 | 916 sqft. | $2080 |
| 2 beds, 1 bath | 1 | 882 sqft. | $2000 |
| 3 beds, 2 baths | 2 | 1110 sqft. | $2600 |
| 3 beds, 2 baths | 2 | 1108 sqft. | $2590 |
| 2 beds, 1 bath | 1 | 968 sqft. | $2220 |
| 3 beds, 2 baths | 2 | 1005 sqft. | $2360 |
| 2 beds, 1 bath | 1 | 862 sqft. | $1960 |
| 2 beds, 1 bath | 1 | 902 sqft. | $2050 |
| 2 beds, 1 bath | 1 | 952 sqft. | $2160 |
| 2 beds, 1 bath | 1 | 887 sqft. | $2010 |
| 2 beds, 1 bath | 1 | 950 sqft. | $2160 |
| 2 beds, 1 bath | 1 | 916 sqft. | $2080 |
| 2 beds, 1 bath | 1 | 882 sqft. | $2000 |
| 3 beds, 2 baths | 2 | 1110 sqft. | $2600 |
| 3 beds, 2 baths | 2 | 1108 sqft. | $2590 |
| 2 beds, 1 bath | 1 | 968 sqft. | $2220 |
| 3 beds, 2 baths | 2 | 1005 sqft. | $2360 |
| 2 beds, 1 bath | 1 | 862 sqft. | $1960 |
| 2 beds, 1 bath | 1 | 902 sqft. | $2050 |
| 2 beds, 1 bath | 1 | 952 sqft. | $2160 |
| 2 beds, 1 bath | 1 | 887 sqft. | $2010 |
| 2 beds, 1 bath | 1 | 950 sqft. | $2160 |
| 2 beds, 1 bath | 1 | 916 sqft. | $2080 |
| 2 beds, 1 bath | 1 | 882 sqft. | $2000 |
| 3 beds, 2 baths | 2 | 1110 sqft. | $2600 |
| 3 beds, 2 baths | 2 | 1108 sqft. | $2590 |
| 2 beds, 1 bath | 1 | 968 sqft. | $2240 |
| 3 beds, 2 baths | 2 | 1005 sqft. | $2380 |
| 2 beds, 1 bath | 1 | 862 sqft. | $1980 |
| 2 beds, 1 bath | 1 | 902 sqft. | $2070 |
| 2 beds, 1 bath | 1 | 952 sqft. | $2180 |
| 2 beds, 1 bath | 1 | 887 sqft. | $2030 |
| 2 beds, 1 bath | 1 | 950 sqft. | $2180 |
| 2 beds, 1 bath | 1 | 916 sqft. | $2100 |
| 2 beds, 1 bath | 1 | 882 sqft. | $2020 |
| 3 beds, 2 baths | 2 | 1110 sqft. | $2620 |
| 3 beds, 2 baths | 2 | 1108 sqft. | $2610 |
| 2 beds, 1 bath | 1 | 968 sqft. | $2240 |
| 3 beds, 2 baths | 2 | 1005 sqft. | $2380 |
| 2 beds, 1 bath | 1 | 862 sqft. | $1980 |
| 2 beds, 1 bath | 1 | 902 sqft. | $2070 |
| 2 beds, 1 bath | 1 | 952 sqft. | $2180 |
| 2 beds, 1 bath | 1 | 887 sqft. | $2030 |
| 2 beds, 1 bath | 1 | 950 sqft. | $2180 |
| 2 beds, 1 bath | 1 | 916 sqft. | $2100 |
| 2 beds, 1 bath | 1 | 882 sqft. | $2020 |
| 3 beds, 2 baths | 2 | 1110 sqft. | $2620 |
| 3 beds, 2 baths | 2 | 1108 sqft. | $2610 |
| 2 beds, 1 bath | 1 | 927 sqft. | $2090 |
| 2 beds, 1 bath | 1 | 974 sqft. | $2300 |
| 2 beds, 1 bath | 1 | 878 sqft. | $2090 |
| 2 beds, 1 bath | 1 | 911 sqft. | $2160 |
| 2 beds, 1 bath | 1 | 862 sqft. | $2060 |
| 2 beds, 1 bath | 1 | 898 sqft. | $1980 |
| 2 beds, 1 bath | 1 | 962 sqft. | $2130 |
| 2 beds, 1 bath | 1 | 878 sqft. | $1940 |
| 2 beds, 1 bath | 1 | 911 sqft. | $2010 |
| 2 beds, 1 bath | 1 | 862 sqft. | $1910 |
| 2 beds, 1 bath | 1 | 962 sqft. | $2130 |
| 2 beds, 1 bath | 1 | 878 sqft. | $1940 |
| 2 beds, 1 bath | 1 | 911 sqft. | $2010 |
| 2 beds, 1 bath | 1 | 962 sqft. | $2150 |
| 2 beds, 1 bath | 1 | 878 sqft. | $1960 |
| 2 beds, 1 bath | 1 | 911 sqft. | $2030 |
| 2 beds, 1 bath | 1 | 862 sqft. | $1930 |
| 2 beds, 1 bath | 1 | 878 sqft. | $1960 |
| 2 beds, 1 bath | 1 | 911 sqft. | $2030 |
| 2 beds, 1 bath | 1 | 862 sqft. | $1930 |
| 2 beds, 1 bath | 1 | 878 sqft. | $1960 |
| 2 beds, 1 bath | 1 | 911 sqft. | $2030 |
| 2 beds, 1 bath | 1 | 927 sqft. | $2220 |
| 2 beds, 1 bath | 1 | 852 sqft. | $2030 |
| 2 beds, 1 bath | 1 | 845 sqft. | $2020 |
| 2 beds, 1 bath | 1 | 865 sqft. | $2060 |
| 2 beds, 1 bath | 1 | 898 sqft. | $2130 |
| 2 beds, 1 bath | 1 | 898 sqft. | $2130 |
| 2 beds, 1 bath | 1 | 899 sqft. | $1990 |
| 2 beds, 1 bath | 1 | 927 sqft. | $2070 |
| 2 beds, 1 bath | 1 | 914 sqft. | $2020 |
| 2 beds, 1 bath | 1 | 852 sqft. | $1880 |
| 2 beds, 1 bath | 1 | 845 sqft. | $1870 |
| 2 beds, 1 bath | 1 | 865 sqft. | $1910 |
| 2 beds, 1 bath | 1 | 925 sqft. | $2060 |
| 2 beds, 1 bath | 1 | 898 sqft. | $1980 |
| 3 beds, 2 baths | 2 | 1093 sqft. | $2490 |
| 3 beds, 2 baths | 2 | 1058 sqft. | $2410 |
| 2 beds, 1 bath | 1 | 875 sqft. | $1930 |
| 2 beds, 1 bath | 1 | 927 sqft. | $2070 |
| 2 beds, 1 bath | 1 | 914 sqft. | $2020 |
| 2 beds, 1 bath | 1 | 852 sqft. | $1880 |
| 2 beds, 1 bath | 1 | 845 sqft. | $1870 |
| 2 beds, 1 bath | 1 | 865 sqft. | $1910 |
| 2 beds, 1 bath | 1 | 925 sqft. | $2060 |
| 2 beds, 1 bath | 1 | 898 sqft. | $1980 |
| 2 beds, 1 bath | 1 | 898 sqft. | $1980 |
| 3 beds, 2 baths | 2 | 1093 sqft. | $2490 |
| 3 beds, 2 baths | 2 | 1058 sqft. | $2410 |
| 2 beds, 1 bath | 1 | 927 sqft. | $2070 |
| 2 beds, 1 bath | 1 | 845 sqft. | $1870 |
| 2 beds, 1 bath | 1 | 865 sqft. | $1910 |
| 2 beds, 1 bath | 1 | 925 sqft. | $2060 |
| 2 beds, 1 bath | 1 | 898 sqft. | $1980 |
| 2 beds, 1 bath | 1 | 898 sqft. | $1980 |
| 3 beds, 2 baths | 2 | 1058 sqft. | $2410 |
| 2 beds, 1 bath | 1 | 855 sqft. | $1910 |
| 2 beds, 1 bath | 1 | 927 sqft. | $2090 |
| 2 beds, 1 bath | 1 | 852 sqft. | $1900 |
| 2 beds, 1 bath | 1 | 845 sqft. | $1890 |
| 2 beds, 1 bath | 1 | 865 sqft. | $1930 |
| 2 beds, 1 bath | 1 | 925 sqft. | $2080 |
| 2 beds, 1 bath | 1 | 898 sqft. | $2000 |
| 2 beds, 1 bath | 1 | 898 sqft. | $2000 |
| 3 beds, 2 baths | 2 | 1093 sqft. | $2510 |
| 3 beds, 2 baths | 2 | 1058 sqft. | $2430 |
| 2 beds, 1 bath | 1 | 852 sqft. | $1900 |
| 2 beds, 1 bath | 1 | 845 sqft. | $1890 |
| 2 beds, 1 bath | 1 | 865 sqft. | $1930 |
| 2 beds, 1 bath | 1 | 925 sqft. | $2080 |
| 2 beds, 1 bath | 1 | 898 sqft. | $2000 |
| 2 beds, 1 bath | 1 | 898 sqft. | $2000 |
| 3 beds, 2 baths | 2 | 1058 sqft. | $2430 |
| 2 beds, 1 bath | 1 | 875 sqft. | $1950 |
| 2 beds, 1 bath | 1 | 845 sqft. | $1890 |
| 2 beds, 1 bath | 1 | 865 sqft. | $1930 |
| 2 beds, 1 bath | 1 | 898 sqft. | $2000 |
| 2 beds, 1 bath | 1 | 875 sqft. | $1950 |
| 2 beds, 1 bath | 1 | 925 sqft. | $2080 |
| 2 beds, 1 bath | 1 | 927 sqft. | $2090 |
| 3 beds, 2 baths | 2 | 991 sqft. | $2230 |
| 3 beds, 2 baths | 2 | 1193 sqft. | $2690 |
| 2 beds, 1 bath | 1 | 816 sqft. | $1800 |
| 2 beds, 1 bath | 1 | 852 sqft. | $1880 |
| 2 beds, 1 bath | 1 | 845 sqft. | $1870 |
| 2 beds, 1 bath | 1 | 865 sqft. | $1910 |
| 2 beds, 1 bath | 1 | 925 sqft. | $2060 |
| 2 beds, 1 bath | 1 | 898 sqft. | $1980 |
| 2 beds, 1 bath | 1 | 898 sqft. | $1980 |
| 3 beds, 2 baths | 2 | 1093 sqft. | $2490 |
| 3 beds, 2 baths | 2 | 1058 sqft. | $2410 |
| 2 beds, 1 bath | 1 | 968 sqft. | $2220 |
| 3 beds, 2 baths | 2 | 1005 sqft. | $2360 |
| 1 bed, 1 bath | 1 | 568 sqft. | $1410 |
| Studio | 1 | 536 sqft. | $1340 |
| Studio | 1 | 747 sqft. | $1700 |
| 1 bed, 1 bath | 1 | 658 sqft. | $1490 |
| 1 bed, 1 bath, Den | 1 | 736 sqft. | $1680 |
| 1 bed, 1 bath | 1 | 649 sqft. | $1470 |
| 1 bed, 1 bath, Den | 1 | 735 sqft. | $1680 |
| Studio | 1 | 747 sqft. | $1700 |
| 1 bed, 1 bath | 1 | 658 sqft. | $1490 |
| 1 bed, 1 bath, Den | 1 | 736 sqft. | $1680 |
| 1 bed, 1 bath | 1 | 649 sqft. | $1470 |
| 1 bed, 1 bath, Den | 1 | 735 sqft. | $1680 |
| Studio | 1 | 747 sqft. | $1700 |
| 1 bed, 1 bath | 1 | 658 sqft. | $1490 |
| 1 bed, 1 bath, Den | 1 | 736 sqft. | $1680 |
| 1 bed, 1 bath | 1 | 649 sqft. | $1470 |
| 1 bed, 1 bath, Den | 1 | 735 sqft. | $1680 |
| Studio | 1 | 747 sqft. | $1700 |
| 1 bed, 1 bath | 1 | 604 sqft. | $1370 |
| 1 bed, 1 bath | 1 | 658 sqft. | $1490 |
| 1 bed, 1 bath, Den | 1 | 736 sqft. | $1680 |
| 1 bed, 1 bath | 1 | 649 sqft. | $1470 |
| 1 bed, 1 bath, Den | 1 | 735 sqft. | $1680 |
| Studio | 1 | 747 sqft. | $1720 |
| 1 bed, 1 bath | 1 | 604 sqft. | $1390 |
| 1 bed, 1 bath | 1 | 658 sqft. | $1510 |
| 1 bed, 1 bath, Den | 1 | 736 sqft. | $1700 |
| 1 bed, 1 bath | 1 | 649 sqft. | $1490 |
| 1 bed, 1 bath, Den | 1 | 735 sqft. | $1700 |
| Studio | 1 | 747 sqft. | $1720 |
| 1 bed, 1 bath | 1 | 604 sqft. | $1390 |
| 1 bed, 1 bath, Den | 1 | 736 sqft. | $1700 |
| 1 bed, 1 bath | 1 | 649 sqft. | $1490 |
| 1 bed, 1 bath, Den | 1 | 735 sqft. | $1700 |
| 1 bed, 1 bath, Den | 1 | 740 sqft. | $1790 |
| 1 bed, 1 bath | 1 | 604 sqft. | $1480 |
| 1 bed, 1 bath, Den | 1 | 741 sqft. | $1800 |
| 1 bed, 1 bath | 1 | 604 sqft. | $1480 |
| 1 bed, 1 bath | 1 | 636 sqft. | $1410 |
| 1 bed, 1 bath, Den | 1 | 740 sqft. | $1640 |
| 1 bed, 1 bath, Den | 1 | 741 sqft. | $1650 |
| 1 bed, 1 bath, Den | 1 | 740 sqft. | $1640 |
| 1 bed, 1 bath, Den | 1 | 740 sqft. | $1660 |
| 1 bed, 1 bath, Den | 1 | 741 sqft. | $1670 |
| 1 bed, 1 bath, Den | 1 | 740 sqft. | $1660 |
| 1 bed, 1 bath, Den | 1 | 741 sqft. | $1670 |
| 1 bed, 1 bath, Den | 1 | 740 sqft. | $1660 |
| 1 bed, 1 bath, Den | 1 | 741 sqft. | $1670 |
| 1 bed, 1 bath, Den | 1 | 741 sqft. | $1650 |
| 1 bed, 1 bath | 1 | 650 sqft. | $1590 |
| 1 bed, 1 bath | 1 | 647 sqft. | $1580 |
| 1 bed, 1 bath | 1 | 596 sqft. | $1470 |
| 1 bed, 1 bath | 1 | 645 sqft. | $1580 |
| 1 bed, 1 bath | 1 | 647 sqft. | $1580 |
| 1 bed, 1 bath, Den | 1 | 703 sqft. | $1710 |
| 1 bed, 1 bath | 1 | 641 sqft. | $1570 |
| 1 bed, 1 bath | 1 | 723 sqft. | $1750 |
| 1 bed, 1 bath | 1 | 677 sqft. | $1650 |
| 1 bed, 1 bath | 1 | 588 sqft. | $1450 |
| 1 bed, 1 bath | 1 | 650 sqft. | $1440 |
| 1 bed, 1 bath | 1 | 647 sqft. | $1430 |
| 1 bed, 1 bath | 1 | 645 sqft. | $1430 |
| 1 bed, 1 bath, Den | 1 | 703 sqft. | $1560 |
| 1 bed, 1 bath, Den | 1 | 714 sqft. | $1590 |
| 1 bed, 1 bath | 1 | 723 sqft. | $1600 |
| 1 bed, 1 bath | 1 | 677 sqft. | $1500 |
| 1 bed, 1 bath | 1 | 650 sqft. | $1440 |
| 1 bed, 1 bath | 1 | 647 sqft. | $1430 |
| 1 bed, 1 bath | 1 | 645 sqft. | $1430 |
| 1 bed, 1 bath, Den | 1 | 703 sqft. | $1560 |
| 1 bed, 1 bath, Den | 1 | 714 sqft. | $1590 |
| 1 bed, 1 bath | 1 | 723 sqft. | $1600 |
| 1 bed, 1 bath | 1 | 677 sqft. | $1500 |
| 1 bed, 1 bath | 1 | 650 sqft. | $1440 |
| 1 bed, 1 bath | 1 | 647 sqft. | $1430 |
| 1 bed, 1 bath | 1 | 723 sqft. | $1600 |
| 1 bed, 1 bath | 1 | 677 sqft. | $1500 |
| 1 bed, 1 bath | 1 | 650 sqft. | $1460 |
| 1 bed, 1 bath | 1 | 647 sqft. | $1450 |
| 1 bed, 1 bath | 1 | 645 sqft. | $1450 |
| 1 bed, 1 bath, Den | 1 | 703 sqft. | $1580 |
| 1 bed, 1 bath | 1 | 723 sqft. | $1620 |
| 1 bed, 1 bath | 1 | 636 sqft. | $1430 |
| 1 bed, 1 bath | 1 | 677 sqft. | $1520 |
| 1 bed, 1 bath | 1 | 650 sqft. | $1460 |
| 1 bed, 1 bath | 1 | 647 sqft. | $1450 |
| 1 bed, 1 bath | 1 | 645 sqft. | $1450 |
| 1 bed, 1 bath, Den | 1 | 703 sqft. | $1580 |
| 1 bed, 1 bath | 1 | 723 sqft. | $1620 |
| 1 bed, 1 bath | 1 | 636 sqft. | $1430 |
| 1 bed, 1 bath | 1 | 677 sqft. | $1520 |
| 1 bed, 1 bath | 1 | 650 sqft. | $1460 |
| 1 bed, 1 bath | 1 | 647 sqft. | $1450 |
| 1 bed, 1 bath | 1 | 645 sqft. | $1450 |
| 1 bed, 1 bath, Den | 1 | 703 sqft. | $1580 |
| 1 bed, 1 bath | 1 | 723 sqft. | $1620 |
| 1 bed, 1 bath | 1 | 677 sqft. | $1520 |
| 1 bed, 1 bath | 1 | 616 sqft. | $1510 |
| 1 bed, 1 bath, Den | 1 | 714 sqft. | $1590 |
| 1 bed, 1 bath, Den | 1 | 714 sqft. | $1610 |
| 1 bed, 1 bath | 1 | 647 sqft. | $1430 |
| 1 bed, 1 bath | 1 | 650 sqft. | $1440 |
| 1 bed, 1 bath | 1 | 647 sqft. | $1430 |
| 1 bed, 1 bath | 1 | 645 sqft. | $1430 |
| 1 bed, 1 bath | 1 | 647 sqft. | $1430 |
| 1 bed, 1 bath, Den | 1 | 703 sqft. | $1560 |
| 1 bed, 1 bath, Den | 1 | 714 sqft. | $1590 |
| 1 bed, 1 bath | 1 | 723 sqft. | $1600 |
| 1 bed, 1 bath | 1 | 636 sqft. | $1410 |
| 1 bed, 1 bath | 1 | 623 sqft. | $1380 |
| 1 bed, 1 bath | 1 | 658 sqft. | $1510 |
| 2 beds, 1 bath | 1 | 855 sqft. | $1910 |
Pet Policies
Pet Friendly
Cat Friendly
Small Dog Friendly
Amenities
Balconies
Air conditioner
Keyless Entry
Alarm system
Wheelchair access
Individual Thermostats
Stove
City Views
Hardwood Floors
Shopping Nearby
Storage Lockers
Schools Nearby
Fridge
Convenience Store
Video Surveillance
Ceramic Floors
Walk-In Closets
Parks Nearby
On-site staff
Garage
Dishwasher Available
Park views
Internet ready
Dryer in suite
Public transit
Cable ready
Washer in suite
Shared yard
Social room
Security onsite
Bicycle room
No Smoking allowed
Elevators
Recreation room
Fitness room
Indoor Parking
Exercise room
Rooftop BBQ Area
Business Center
Cafe
Garage with bike rack
Lounge Area
Bike rentals
Charging Stations
Utilities
Contacts
Conseillère à la location - 4388060999
Equinoxe Rental Condos