Renting? Here's how you can still save for a down payment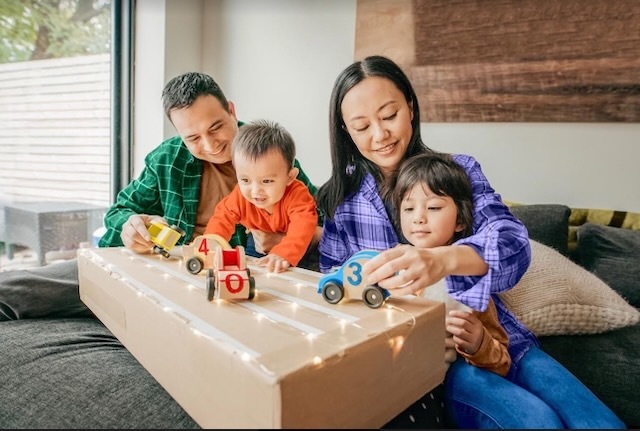 Renting but dreaming of buying? We walk newcomers through how to save for a home!

When you think of your future in Canada, you might imagine owning a home.
Maybe you already have a clear idea of what that home will look like and how you'll decorate, or maybe you just want a place to call your own.
The challenge is navigating the transition from renter to homebuyer, which can be a greater in some Canadian provinces than others. Even though the average home price in Canada was $629,971 as of August 2022, the average
home price in B.C. was $915,841 and the average home price in Ontario was $831,473.
In Canada, getting a mortgage requires a down payment towards the price of your home. If you put down 20%, you can buy a home without CMHC mortgage loan insurance. Any down payment of less than that will require CMHC insurance.
The minimum down payment in Canada is 5% of the first $500,000 of the home's value and 10% of any additional amount up to $1 million. If you intend to buy a home over $1 million, however, you are required to put down 20% of the purchase price.
That means that you would need a $25,000 down payment for a $500,000 home or a down payment of $37,997.10 for an average home in Canada worth $629,971.
So, how do you save a down payment while renting? We'll walk you through some tips for saving the money you need to make your home ownership dreams come true.

Choose the right rental
Rent is most people's biggest expense. You'll want to choose a rental that leaves you room to save a down payment. Generally, you want to keep your housing expense below 30% of your total gross income.
That means that if you make $5,000 a month, you should ideally budget no more than $1,500 for rent. That can be tough if you live in Canada's major cities, where the average rental price can be more than that. You could potentially live with roommates or in a studio to reduce your rental costs — but if you're married or have children, you probably need your space.
In that case, try to find a rental that meets your needs, but with rent low enough to allow you to still put money aside every month towards a down payment. You might be able to find cheaper rental properties in the suburbs of a city or in areas without great transit.
Saving for a home is about balancing your current priorities with your dreams of home ownership. Sometimes it makes sense to cut back on expenses a bit more to achieve your dreams faster. Other times, you may decide to save more slowly so you can meet your current needs.

Figure out your home buying budget
It's hard to save for something if you don't know how much you need to save. While you may not know exactly how much you'll spend on a home ahead of time due to changes in your needs, income, and home prices, you can get a
general idea.
Your first step is to see how much home you can afford on your current salary and your projected future salary for when you'll purchase the home. You can use a mortgage affordability calculator to quickly figure that out.
Put in your gross monthly income, your existing debt, and an estimate of your future property taxes, condo fees, and heating costs. You then set the details for your desired mortgage and the calculator will tell you how much of a mortgage you can afford.
You can input your current income and also the income you think you'll have when you're ready to buy a home. For example, you might put in that you're currently making $7,500 in household income and calculate that but, as you
expect in five years to be making closer to $8,500 in household income, you can input that number, too. The calculator will then tell you your maximum purchase price and your minimum down payment. The latter is the amount
you'll need to save. You might decide you want a more substantial down payment and save more.
Before you start saving, make sure there are homes in your budget in the area you want to live. If not, you might need to move to a region with lower home prices, wait until your income increases, or save a larger down payment so you don't need to take out as much in the form of a mortgage.
Just remember that there are other costs when purchasing a home that you'll also need to budget for. These include things like GST or HST if you're purchasing a new home, CMHC mortgage loan insurance, closing costs and moving costs. Make sure to research how much this will cost in your area and create a separate budget for that.

Create a savings budget
Once you know how much you'll need to save, it's time to get saving! Creating a budget to ensure you're able to put money aside every month is key to achieving your homebuying goal.
Most budgets recommend trying to do the 50/30/20 rule. That means that 50% of your income should go towards your needs, 30% towards your wants, and 20% towards your future financial goals like saving for retirement, a home, or your children's school. This ratio doesn't work for everyone (it isn't always possible depending on your rental expenses), but it's a helpful guide to keep in mind.

Here are some tips for saving:
Do budget research: Take a look at your past bank and credit card statements (on your bank's app or online). Where are you spending money currently? How much money is left over at the end of the month to put towards your down payment? Are there areas you can cut back on? Create budget categories based on your past spending and put limits on how much you want to spend in all of those categories. If you are an eligible customer, you can create a budget with Scotia Smart Money by Advice+. Scotia Smart Money is a free tool available to eligible personal banking customers on the latest version of the Scotia Mobile app. 1
Start with the big things: Can you save on some of the big things in your budget? For example, you could switch to a package deal for your cellphone and internet. Or you could get a family plan. You might also shop around and find cheaper rental or car insurance.
Cut subscriptions: Look through your recurring payments. You might find charges you forgot about or services that you don't use enough. Find free alternatives when you can.
Do it yourself: While not everyone has the time (or the energy) to do everything themselves, look for ways to save via things like making your own coffee or doing a lunch swap with co-workers rather than buying lunch every day.
Be strategic: Saving money is hard, especially during times of high inflation. Buy in bulk, get cheaper alternatives, and adjust your lifestyle in ways that allow you to enjoy what matters to you — but still allows you to put money aside.
Bank the rest: If you use your debit card on everyday purchases, you can sign up for Scotia's Bank the Rest program. We'll round up the cost of your purchases and put the difference into a savings account for you.
Once you have a budget and have implemented some of these savings strategies, you'll have a better idea of how long it will take you to save the money you need for your down payment. Just remember: Your timeline is flexible. You might get a big bonus and meet your goal earlier. Or you might have a financial setback and take longer than you expected.

Put your funds in the right place
You want to make sure that the money you're saving for a down payment is in a place where you won't accidentally spend it and where it's earning interest while you save the rest of the money you'll need.
You could set your account up to automatically transfer the amount you plan to put towards your down payment that month into a special savings account. That will leave exactly how much you have to spend in your chequing account.
However, you'll want to decide what to do with those savings. Since saving for a down payment is often a short- or medium-term financial goal, things like Guaranteed Investment Certificates (GICs) can be a good place to put your money so it earns interest while you're still saving. You can purchase them through your bank.

Find ways to save more quickly
If you want to save your down payment faster, there are a few things you can do to speed up your saving:
Take on a side hustle: Some people take on additional work to make extra money outside their day job. You might tutor local kids, drive for a ride share service, sell crafts on Etsy, or DJ on the weekends to bring in a bit of money.
Ask for a raise: While some companies have defined annual raises, others require you to ask for a raise. Talk to your boss about how your company handles raises and what you should do if you'd like to ask for one. Make it clear that you're open to taking on more responsibility or a promotion.
Use any windfalls: If you get a bonus, an inheritance, or win any money, put it towards your down payment costs.
Build your credit score
A down payment is only one part of what you need to qualify for a mortgage. You also need a good credit score to get approved and to qualify for great rates.
As a newcomer to Canada, you need to start working on building your credit score. That means getting a credit card and using it responsibly. Other forms of credit also help you improve your credit score. For example, if you take out
student loans, get an auto loan, or sign up for a line of credit, you can potentially boost your credit score by building a credit history.
Just make sure to use your credit responsibly and always pay on time. That will ensure you build a great credit score that will set you up to be approved for a mortgage.

You can do it!
Saving up for a down payment while renting might seem challenging, but if you know how much you need to save, make a budget, invest your savings, and build your credit score, you'll be able to navigate the process much more
easily.
Buying a home in Canada might involve making some compromises like living in a neighborhood you don't love now so that you can own a place you'll love later. But when you walk into your own home, all those sacrifices will be worth it.
Legal Disclaimer: This article is provided for information purposes only. It is not to be relied upon as financial, tax or
investment advice or guarantees about the future, nor should it be considered a recommendation to buy or sell.
Information contained in this article, including information relating to interest rates, market conditions, tax rules, and
other investment factors are subject to change without notice and The Bank of Nova Scotia is not responsible to
update this information. All third party sources are believed to be accurate and reliable as of the date of publication
and The Bank of Nova Scotia does not guarantee its accuracy or reliability. Readers should consult their own
professional advisor for specific financial, investment and/or tax advice tailored to their needs to ensure that individual
circumstances are considered properly and action is taken based on the latest available information.
1. To access Scotia Smart Money by Advice+, you must have an active personal banking retail product, have
transacted at least once on your account within the preceding 6 months and have logged into the Scotia
Mobile Banking App.
- Sponsored Content by Scotiabank