Record High Rents Present a Challenge for Newcomers to Canada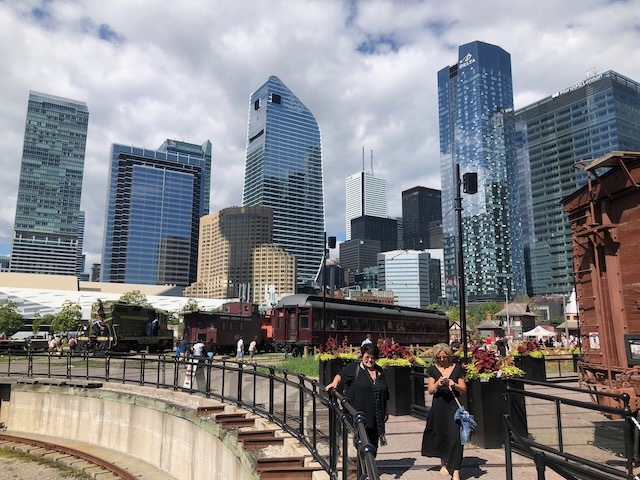 Record high rents continue to present a challenge for newcomers to Canada and international students looking for affordable accommodation. 
The average asking rent in Canada increased 1.8 percent monthly and 9.6 percent annually to reach yet another record high of $2,117 in August, according to the most recent Rentals.ca and Urbanation national rent report.
Vancouver and Toronto, Canada's two major "gateway" cities for newcomers (and the country's most expensive!), had below-average annual rent hikes in August.
Rents for roommates reached a new high
And, a simple room in shared accommodation, which as Clarrie Feinstein of the Toronto Star noted, is one of the last "affordable refuges" for living in Toronto, reached new highs in August and continues to trend upward. 
RELATED STORIES: 
Our latest Housing Newsletter for Newcomers to Canada and International Students
Home-sharing is another rental solution for newcomers
 According to the report, the highest monthly rent being asked for roommates in Toronto was $1,302. In Vancouver, roommates were being asked to pay as much as $1,773.
Ricardo Tranjan, senior researcher at the Canadian Centre for Policy Alternatives, told Feinstein that rents will remain "out of control" for the near future, adding that it takes many years for new builds to come to market.
"There's a lot of talk about getting more housing supply," said Tranjan, "which will help in the long-term in terms of creating more housing availability. But we're not seeing much action on the ground to help bring rents down now."
RELATED STORY: Our latest Housing Newsletter for Newcomers to Canada and International Students
Writing in Rentsync's National Demand Report, Daniel Aizikov said, "rental demand which by August typically begins to decline has shown no signs of slowing."
Rental demand has remained "robust"
Aizikov, Rentsync's Product Manager in charge of  Data Services, said that the typical seasonal trend would "see a decline in rental demand in August, followed by a continued contraction throughout the end of the year. This year has continued to prove the exception with demand remaining robust in the face of seasonality."
Looking ahead, Aizikov said that although the coming months will bring "moderate changes" to rental demand amid the traditional cool down in the off-peak winter months,  "the overall lack of available supply will likely limit any contraction" in the rental market and thus in prices. 
So, for newcomers and international students seeking accommodation, the months ahead look like more of the same.  
Our current immigration boom pales in comparison to that which occurred during the first decade of the 20th century - Livio Di Matteo, Lakehead University 
According to the Rentals.ca report, a one-bedroom in Vancouver is now $2988 while the same size unit in Toronto goes for $2,620. 
As always, the bargains are found outside of the two major centres. 
A one-bedroom in Hamilton, Ontario (close to Toronto) is listed at $1,901. In Calgary it's $1,728; in Windsor $1,588; in Edmonton $1,279 and in Saskatoon $1056.
The range between Toronto and Saskatoon is $1,564. 
Rents in Canada are "unbelievably high"
In the four-month period from May to August, asking rents in Canada jumped by 5.1 percent (that's an average of $103 a month) with all rental types (apartments, condos, and houses) rising an average of 9.6 percent year-over-year across the country. 
Toronto was just behind the national average at 8.7 percent. In that same four-month period rent increased by $38 for a one-bedroom apartment in Toronto and $43 for a two-bedroom apartment.
According to Giacomo Ladas, communications manager at Rentals.ca, the rent hikes were caused by limited supply being unable to meet rental demand from newcomers to Canada (including international students)  and renters not being able or unwilling at this time to buy a home due to the uncertainty that continues regarding inflation and interest rates hikes by the Bank of Canada. 
The annual rate of inflation in Canada annual rate rose in August, propelled by higher rents and costly fuel. Statistics Canada's latest Consumer Price Index (CPI), shows that inflation rose 4 percent year over year in August
Typically, August sees a lot of immigrants and international students enter the search for long-term rentals.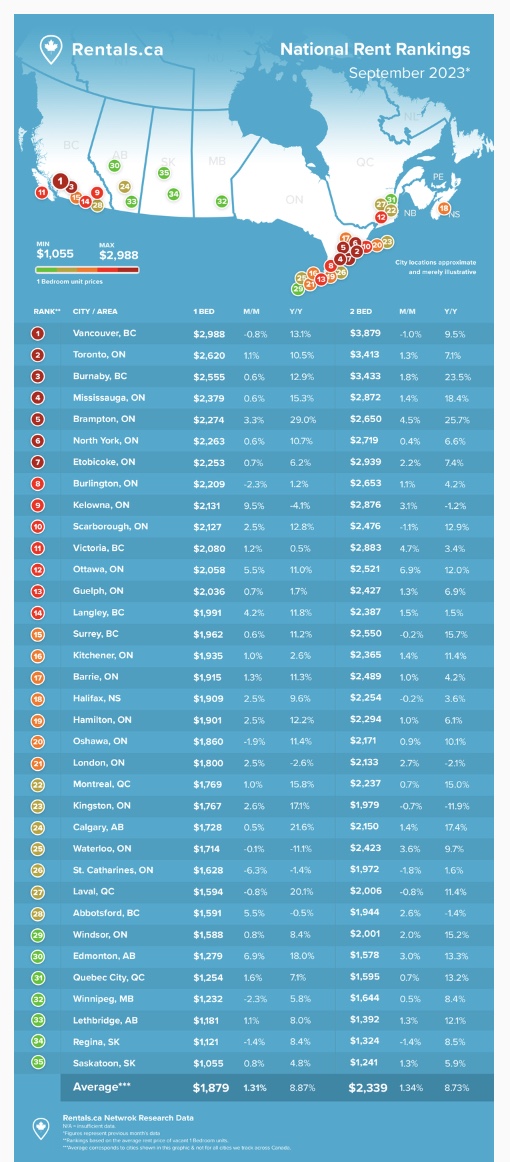 Canada hopes to settle 485,000 newcomers in 2024 and 500,000 in 2025. The country has also welcomed a record number of international students, with those numbers continuing to rise for the moment.  
While some critics say immigration and international students have played a role in the housing shortage and rising costs, others point out that it's just not true. 
The immigration boom pales in comparison
 Livio Di Matteo, a professor of economics at Lakehead University points out: "Our current immigration boom pales in comparison to that which occurred during the first decade of the 20th century. Annual immigration now represents just 1.5 percent of Canada's population compared to the peak years 1912 and 1913 at 5.1 and 5.3 percent. The equivalent today would mean nearly two million immigrants a year and we are nowhere near that amount."
Still, according to the Canada Mortgage and Housing Corporation, Canada needs to build 5.8 million units of housing in the next 10 years to restore affordability to the housing/rental market.
Across the country, rent hikes were as follows:
- Quebec was No. 1 for average asking rents for shared units rising by 24 percent a year,
- Alberta was second at 20.5 percent
- B.C. came in third at 17.7 percent
- And  Ontario was fourth at 7.5 percent.
Unsurprisingly, Ontario remains the most popular destination province among Express Entry applicants to Canada in 2022, followed by British Columbia and Alberta. These have consistently been the top provinces over the past three years.
As Zakiya Kassam reported in Storeys, Calgary still leads Canada's major markets in terms of overall annual rent growth with a 17.3 percent rise to $2,068.
Several mid-sized markets saw their rents jump last month. In Richmond Hill, rents rose 28.1 percent year over year, and Oakville, Brampton, and Burnaby posted increases of 23.1 percent, 21.6 percent, and 21.1 percent.
Looking ahead, Tranjan told The Star's Feinstein, rental affordability will keep eroding in Ontario from weakening rent control rules. On Nov. 15, 2018, Doug Ford's newly-elected Progressive Conservative government amended Ontario's Residential Tenancies Act, effectively removing rent control from new buildings and rental units that had not been occupied before that date.
Tenants in Ontario not protected
"We've now hit the five-year mark since that was put into effect, meaning more units are coming to the market that isn't rent-controlled, and the new pipeline of condos that will likely be rented out, also won't have rent control," Tranjan said. "So even with more supply, which provides more choice, tenants aren't protected."
As for the rise in the cost of renting a room, Tranjan told Feinstein that he finds it disconcerting as "multi-tenant units are some of the most affordable options available,"
"Folks who cannot pay for those rooms, are unlikely to afford anything else in the city. There's a huge concern about what will happen to them. People choose shared accommodation not out of choice but out of necessity. If that option becomes too unaffordable, there is a serious risk of more people becoming unhoused."
*Rentals for Newcomers used no AI-generated content in the writing of this story, and all sources are cited and credited where possible.
© Rentals for Newcomers 2023