Best Richmond Hill Neighbourhoods for Renting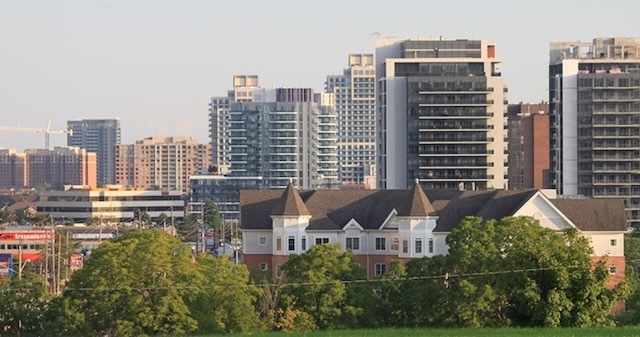 Thinking about settling as a newcomer to Canada in Richmond Hill, Ontario?
You need to know two things:
You'd be living in the same city where the world's current greatest hockey player - Connor McDavid of the Edmonton Oilers - was born and raised, and you'd also be known as a "Richmond Hillian."
Oh, and you'd also be living in one of Canada's most diverse cities (60 percent) with a population of 202,000 that is located in the northern part of the GTA,  about 30- 60 minutes from downtown Toronto, depending on which type of transportation you choose (and the time of day).
Richmond Hill is a high-tech hub
Richmond Hill, whose motto is  En la rose, je fleuris (French for "Like the rose, I flourish"),  is a rapidly growing tech hub. There are an estimated 1,000 information technology and high-tech industry industries located along the border between Richmond Hill and the neighbouring city of Markham.
York Region is second only to Toronto as a Canadian tech centre. It has 4,300 tech companies across its nine cities and towns, which include Markham, Vaughan, Richmond Hill and Newmarket. Many of those companies are industry leader globally. 
The median age in Richmond Hill is 42. 
Located in York Region, this city features 167 parks, plus 689 ha (1,700 acres) of undeveloped natural area for recreation.[23] The Richmond Green Sports Centre and Park have several baseball diamonds, two ice skating rinks, a 300-person amphitheatre and a skateboard park.
Laws against light pollution
The city also has a total of six public swimming pools, including an indoor wave pool. 
And Richmond Hill is the only Canadian city to have light pollution laws because it's home to the David Dunlap Observatory telescope, the largest in Canada.
Oh, and for entrepreneurs: you'd also be living in the same city that's been home Isai and Mark Scheinberg, co-founders of PokerStars which was sold in 2014 to Amaya Gaming for $4.9 billion. That's not shabby. 
Best and most popular neighbourhoods in Richmond Hill, Ontario
Here are some of the best and most popular neighbourhoods to rent in Richmond Hill: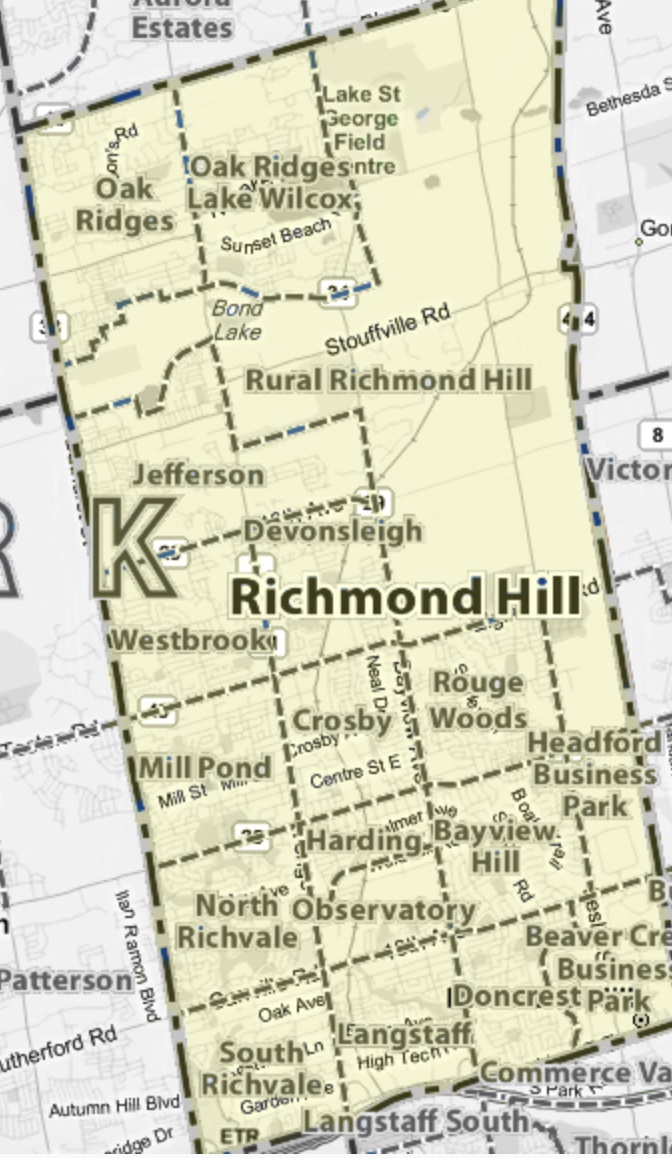 Oak Ridges Neighbourhood
Oak Ridges is an unincorporated community to the north of Richmond Hill's downtown and south of Aurora.
Historically, it had a post office from 1851 to the 1930s.
Oak Ridges was annexed by Richmond Hill in 1971. It is largely residential, with most commercial development located along Yonge Street. The city developed around Lake Wilcox, the largest lake in the area and a community within Oak Ridges, and has continued to expand slowly since its annexation. In the 1990s, Oak Ridges experienced moderate growth, which has spurred environmental action and anti-development movements by numerous organizations. Population has grown significantly as a result of development initiatives along Bayview Avenue. The Oak Ridges Community Centre was built and completed in June 2012 to accommodate community demand.
Bayview North Neighbourhood
Bayview North is a residential area along Bayview Avenue from Elgin Mills Road East to Major Mackenzie Drive. Western branch of the Rouge River runs through as well as Beaver Creek. Bayview Secondary School is located within Bayview North.
Doncrest Neighbourhood
Doncrest is a small residential area along and east of Yonge Street just north of Highway 7. The area is located on the crest of the Don River tributary German Mills Creek. Chinese businesses located along Highway 7 from Bayview Avenue are located here and tie with those around East Beaver Creek area.
Elgin Mills Neighbourhood
Elgin Mills is an area around Yonge Street from Gamble Road to Elgin Mills Road. A business park, Elgin Mills Business Park is located in the southeast. Overall a residential area served by Upper Canada Place and Elgin Mills Square at Yonge and Elgin Mills Road. Yonge-Bernard Terminal is a York Region Transit hub.
The historic community once had a steam grist mill, toll booth and inn at the corners of Elgin Mills Road and Yonge Street. The community existed prior to the establishment of a post office in 1900 and was home to Newton Tannery before 1870 but business dwindled and reverted in the late 20th century as a residential suburb of Richmond Hill.
Headford Neighbourhood
Headford was established as a postal village in 1856 and home to Methodist Church that opened in 1850. A brief oil fever in the 1860s but the area declined by the early 20th century. Headford once had seen (F. Eckhardt farm) and grist (John Burr farm) mills along Beaver Creek. Headford is now mainly a business park area bounded by Major Mackenzie Drive, Leslie Street, Highway 404 and 16th Avenue.
Hillsview Neighbourhood
Hillsview is home to David Dunlap Observatory with residential homes now surrounding the observatory where it once was farms. Beverley Acres is a smaller residential area within Hillsville at the southwest corner of Yonge Street and Major Mackenzie Drive.
Mill Pond Neighbourhood
Mill Pond is a park located in the mid-region of Richmond Hill that is surrounded by heritage homes. The pond once powered a sawmill located here in the 1800s.
Richvale
Richvale is two residential areas in the southwest end of Richmond Hill divided by Carrville Road and bounded by Yonge Street and Bathurst Street:
North Richvale-Yongehurst - the area north of Carrville Road
South Richvale - the area south of Carrville Road
Hillcrest Mall is the main commercial hub of the communities. Richmond Hill Golf Club is located in the south end. Historically the area had several sawmills next to ponds along the Don River but now have disappeared and filled in.
Yonge Street Neighbourhood
The old downtown Richmond Hill (also known as the historic Village of Richmond Hill) is considered the strip of Yonge Street between Major Mackenzie in the south and Richmond Heights in the north. The new theatre was opened in 2009 and provides a modern venue for live performances.
Bayview Hill Neighbourhood
Bayview Hill is a subdivision located on the northeast side of Bayview Avenue and 16th Avenue. Built in the early 1990s, the subdivision contains large expansive homes.[54]
East Beaver Creek Neighbourhood
Richmond Hill's current commercial hub is located near Leslie Street and Ontario Highway 7, where it borders Markham's AMD headquarters. Built in the early to mid-1990s, the area is serviced by Highway 404, York Region Transit, and Buttonville Airport. The current City Hall was moved to that location in 1994.
Southern Richmond Hill is home to the city's industrial and business region housing most of the city's hotels, as well as the main commercial area of the city's Chinese community. The northern part of the city is considered to be Old Richmond Hill as it is a historical area. Central Richmond Hill is a very commercial area, housing multiple malls, plazas and entertainment buildings, such as theatres and restaurants. The northernmost part of the city is mostly farmland, though it is slowly being developed.
During the 1990s, Chinese immigrants primarily from Hong Kong moved to Richmond Hill, where they set up businesses and shops catering to the community. Many shops and restaurants were established in suburban-style shopping malls and plazas, such as Times Square, along a stretch of Highway 7 between Bayview Avenue and Leslie Street.
Jefferson Neighbourhood
Historic Jefferson is named for Jonathan Jefferson who settled in Lot 59 and established a store and post office in 1840. Jefferson is a newly developed neighbourhood, with housing beginning to occupy in 2007. Jefferson Side Road is a major thoroughfare in the neighbourhood. Jefferson includes a large area, roughly bounded by Gamble Road in the south, Bathurst Street in the west and Bayview Avenue in the east. The community includes a residential subdivision namely Jefferson Forest, located in the southeast portion of the community. Tower Hill is a smaller area in the south end of Jefferson and is served by Tower Hill Road.
Windham Neighbourhood
Windham was an early settlement along Yonge Street north of Elgin Mills to Jefferson Side Road.
Named for the British Secretary of War William Windham, the area was settled in 1798-1799 by French emigres. These royalist led by Joseph-Geneviève, Comte de Puisaye did not stay long and many would end up leaving the area. By 1814 most of these settlers had left.
Henri Quetton de St. George, the French-born son of Laurent Quetton St. George (1771-1821), who acquired land here in 1798, built his estate, Glen Lonely (burned down 1908), around 1847 and is now part of Lake St. George Conservation Area. St. George's family either died or left Canada for France and was the only member to remain in the area. He died in 1896 and is buried at Temperanceville United Church.
The Windham name would disappear after the 1860s as Jefferson and Oak Ridges succeeded as new settlements. French Royalist Park in Jefferson is the only reminder of the French settlers.