Best Barrie Neighbourhoods for Renting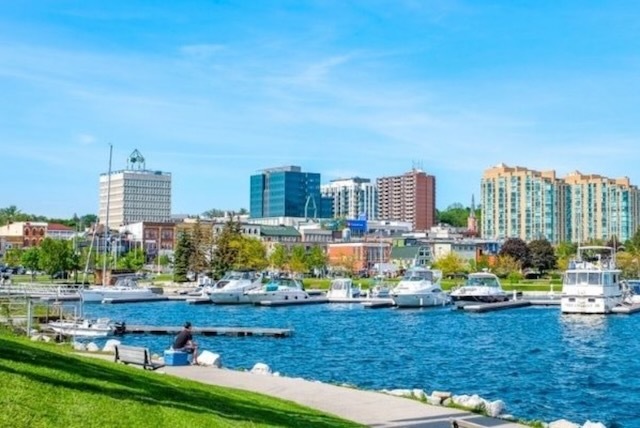 Barrie is one of the most popular commuter cities in southern Ontario.
This beautiful Simcoe County gem, located on Kempenfelt Bay on the western arm of Lake Simcoe, is just  80 km (50 miles) north of Toronto.
As one of Canada's fastest-growing cities, Barrie feels like it's part of the Greater Toronto Area (GTA). But it's also located close to popular winter resorts spots in the beautiful Muskoka Region and offers all kinds of amenities in summer and winter, including skiing.
Barrie features easy access to the GTA
Barrie is connected to the GTA and the rest of southern Ontario by GO trains and the very busy Highway 400. A lot of the residential development in Barrie occurs in the southern part of the city, particularly near the Barrie South GO Station located in the south end of Painswick (see below).
While new neighbourhoods are springing up in the south end of the city,  there are also plenty of family-oriented neighbourhoods featuring large lots and local schools plus there are popular neighbourhoods with a view of the lake. 
Renters in Barrie, which has a population of over 142,000, can choose from single-family homes, condos, apartments and townhouses.
Barrie is gaining renown as a high-tech hub
Located on the traditional land of the Indigenous Wendat and Anishinaabe peoples, Barrie was first settled during the War of 1812 as a supply depot for British forces. It is named after Sir Robert Barrie. 
Today, Barrie is known as a high-tech hub with a diversified economy featuring jobs in the education, healthcare, information technology and manufacturing sectors. The median age is 38.5 years, which is lower than the Ontario average of 39.0 years.
Best and most popular neighbourhoods in Barrie, Ontario
Here are some of the best and most popular neighbourhoods to rent in Barrie.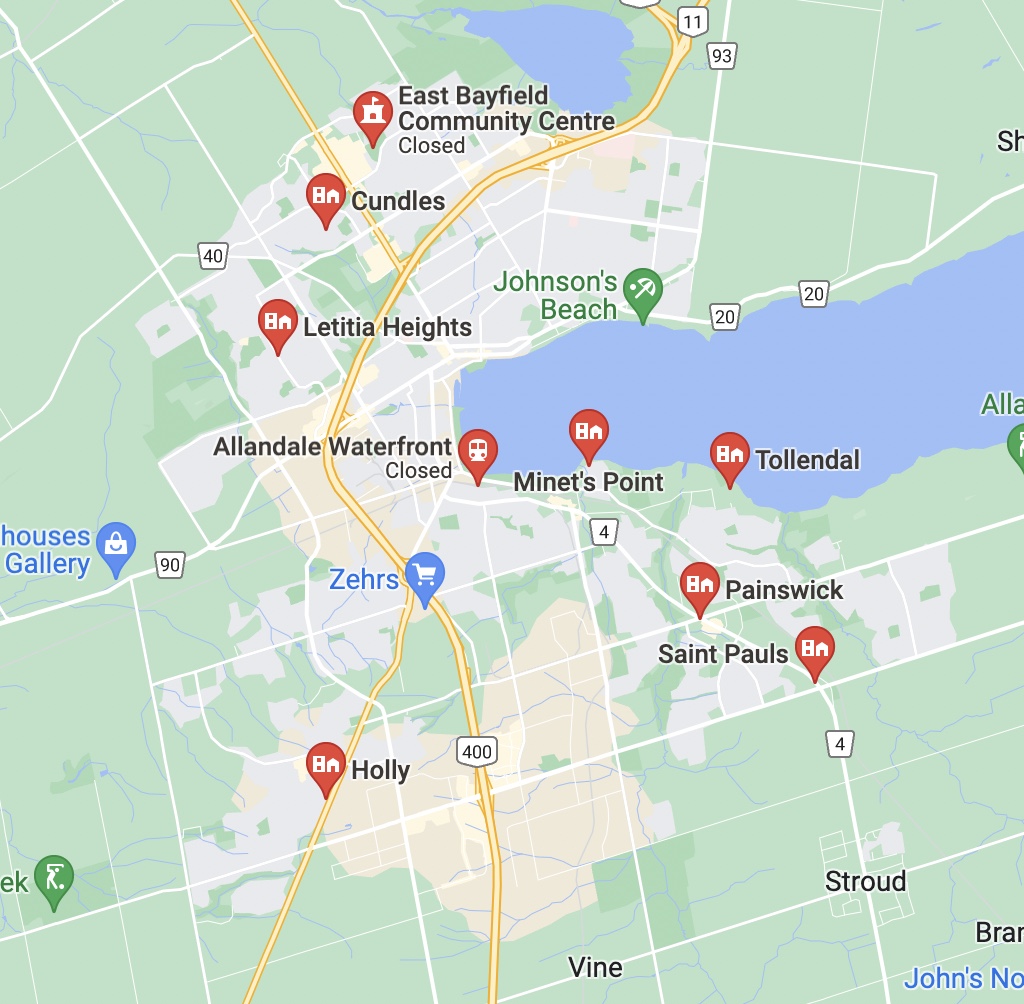 Painswick Neighbourhood
Painswick is one of the southernmost neighbourhoods in Barrie. It is 
Situated south of the shore of the Kempenfelt Bay and east of the 400, Painswick is one of Barrie's southernmost areas. It's a popular neighbourhood featuring residential areas close to all kinds of amenities with easy access to the Barrie South GO Station parking.
Painswick has numerous schools, shopping areas and restaurants. It also contains many parks and natural areas where residents enjoy the large Lovers Creek Ravine that runs through the neighbourhood. Painswick also has its own branch of the Barrie Public Library.
Holly Neighbourhood
 Holly is one of Barrie's most sought-after southern neighbourhoods as witnessed by its rapid growth. in recent years.
Innis Shore Neighbourhood
Located in southeastern Barrie, Innis Shore is a large neighbourhood. Its northern border is a stretch of the south shore of Kempenfelt Bay, east of Wilkin's Beach. Rated as one of the most popular neighbourhoods in Barrie, Innis Shore contains plenty of parks, playgrounds, excellent schools and a scenic trail system.
Sunnidale Neighbourhood
Sunnidale is known for large lots, bungalows, and mature trees.  Sunnidale features six public schools and four Catholic schools as well as Sunnidale Park (which includes a dog park, streams, forest, playground and an arboretum.)
Bayshore Neighbourhood
A neighbourhood in the southeast of the city. Bayshore is south of the southern shore of Kempenfelt Bay and east of Highway 400. It's located between Innishore to the east and the Painswick neighbourhood to the west.
Older homes and large lots define the mature neighbourhood of Bayshore. With quiet streets and large trees, Bayshore is popular with families. It features detached bungalows and split-level houses. There is a newer subdivision north of Big Bay Road.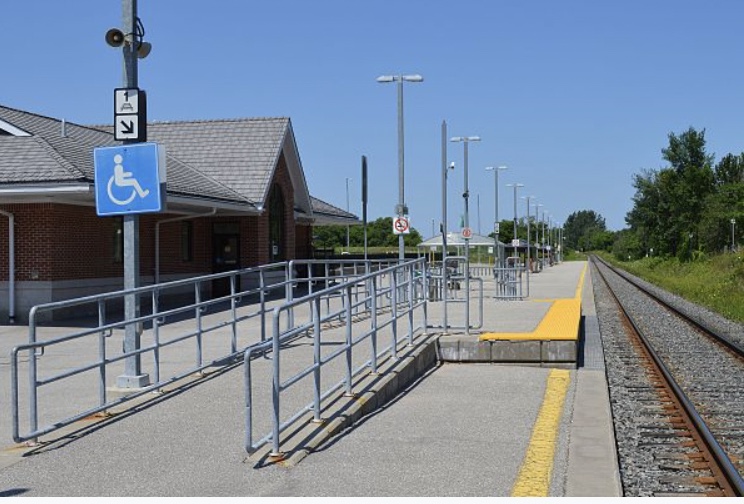 In addition to great schools, Bayshore offers convenient shopping and eateries along Big Bay Point Road and beautiful neighbourhood parks such as  Bayshore Park, Kuzmich Park and Wilkins Walk.
Nearby in Painswick, there is a larger shopping centre. Commuters to the GTA have easy access to the Barrie South GO Station located nearby in the south end of Painswick. 
City Centre Neighbourhood
Looking for fantastic views in Barrie?  City Centre overlooks the Lake Simcoe waterfront from an array of downtown apartments. City Centre is located in the urban core of Barrie and has many popular amenities and attractions on your doorstep.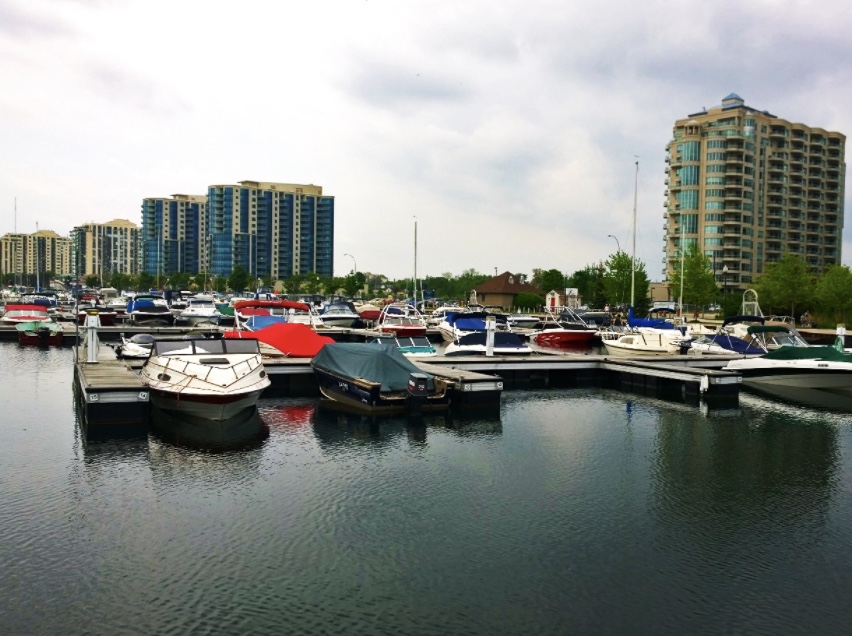 This is the heart of the city located around Kempenfelt Bay and features high-rise condominium units or apartment buildings. 
It contains popular shops and restaurants plus access to the Allandale Waterfront GO station located in the southwestern corner of Kempenfelt Bay. 
East End Neighbourhood
One of the oldest neighbourhoods in Barrie, the east end of town is bordered by Duckworth, Blake, Grove, Penetanguishene.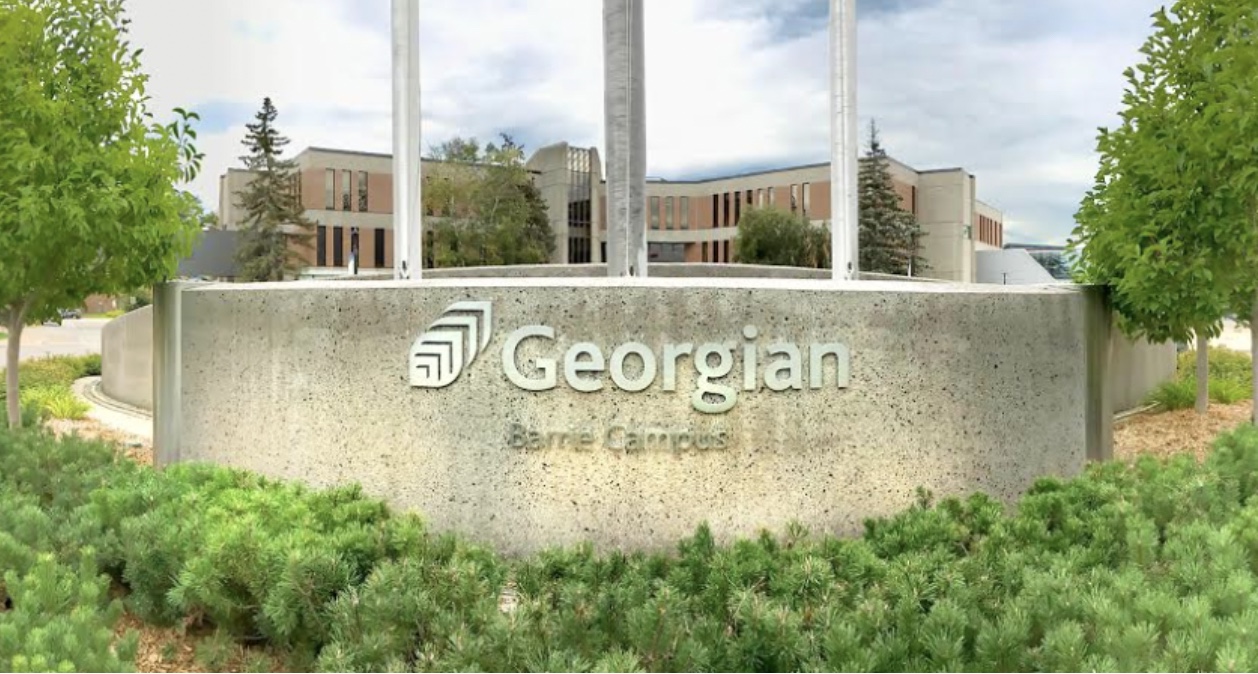 It is a largely residential area, a mix of parklands, brick bungalows and shady trees. It's also home to Georgian College, and Kempenfelt Park (an absolute hidden gem of a park in this area)
Ardagh Neighbourhood
The Ardagh neighbourhood features stunning backyard views, exciting nearby trails, this western Barrie neighbourhood is a nature lover's delight.
Named for the Ardagh Bluffs natural area that it sits in, the Ardagh Bluffs is environmentally protected, with more than 17 kilometres of trails over 518 acres.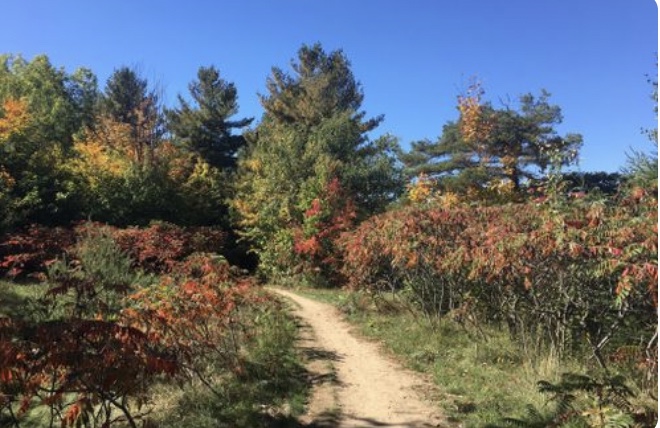 A residential neighbourhood on the west end of Barrie, ArdaghIt is centrally located and just southwest of the core of the downtown core. Residents have easy access to Highway 400.
Rental homes here range from new and older condominium units, older bungalow properties and some newer homes. Residents also enjoy proximity to beautiful parks, hiking trails and natural sights.
The Ardagh Bluffs Natural Area and the Bear Creek Eco-Park are the two main natural attractions. Ardagh Bluffs is a 518-acre area with a 17km network of five main trails and several other minor trails. Bear Creek is another nearby trail that features a shorter walk along a beautiful marsh area.

Allandale Neighbourhood
The waterfront neighbourhood of Allandale is a  charming, older neighbourhood located on the southwestern corner of Kempenfelt Bay, south of downtown Barrie.
Allandale features lots of heritage homes and is one of the oldest areas in Barrie. You can take a heritage walking tour through this popular area which includes the Allandale GO Transit station.
Living in Allandale, part of which is bordered by Kempenfelt Bay gives you access to a beautiful walking and bike path, several parks and playgrounds.
 
Allandale is conveniently located close to Barrie's downtown and all of the core's shopping, dining, services and waterfront views. The Allandale Waterfront GO Station, linking Barrie with the GTA by public transit is another benefit of living in this historic area.