Ottawa Housing and Rental Prices are on the Rise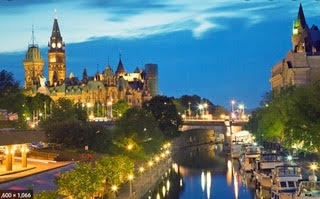 If you're a newcomer to Canada looking to buy or rent a home in Ottawa, Ontario,  you'll find prices for both on the rise in 2022.
According to a market forecast by Royal LePage,  Ottawa home prices are expected to increase nine percent year-over-year in 2022 as more first-time homebuyers and newcomers, including international students, choose to move to the region. However, Ottawa remains a more affordable housing spot whether buying or renting than most major cities in Canada and Ontario.
For newcomers arriving in Canada hoping to buy a home upon arrival (or, as the majority do within 3-5 years) following housing market trends in cities such as Ottawa is important, particularly when making the pre-arrival decision about where to settle. Home equity is one of the main sources of wealth in Canada. A study by the Canadian Bankers Association shows that  Canadians have significant equity in their home, averaging about 73 percent of the home's value.
Home equity is a major source of Canadian wealth
A pre-pandemic Royal Lepage survey showed that  75 percent of newcomers arrive in Canada with enough savings to buy a home. However, the average time immigrants wait to purchase a home is three years. The study also showed that 82 percent of newcomers choose to stay in their first city of residence, driving home the importance of settling in a city, again like Ottawa, where the price of a house is far more affordable than in major cities such as Toronto or Vancouver.
More than ever, local first-time buyers and newcomers to Canada are choosing to buy in Ottawa, as the region offers more green space and greater affordability than other major cities
The prices for a home in Ottawa are much lower than prices in Toronto or Vancouver, the two Canadian cities popular with immigrants. The majority of Ottawa homes remain below the $1 million mark. This means they are still eligible for a five percent minimum down payment and CMHC insurance. However, this helps create a substantially larger pool of buyers competing for an ever-shrinking inventory of homes for sale.
Ottawa is a popular settlement spot for newcomers
"More than ever, local first-time buyers and newcomers to Canada are choosing to buy in Ottawa, as the region offers more green space and greater affordability than other major cities," Jason Ralph, broker and president at Royal LePage Team Realty told Michael Woods of CTV News Ottawa.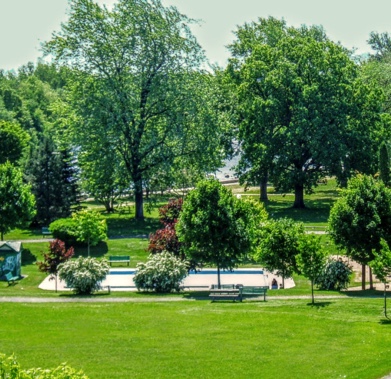 In addition to boasting a strong economy and higher incomes, Ottawa is regarded as being both pedestrian and transit-friendly.
Listings in Ottawa fell in 2021 though average home prices stayed higher. In December 2021, 862 homes were sold and for the entire year, 20,302 homes were sold.  The average sold price of a home in Ottawa was $615,858. That's a 16 percent hike from December 2020 and is an $84,232 increase to average Ottawa home prices. 
On the downside, new listings in Ottawa for December 2021 only hit 600 so supply remains a major issue continuing into 2022.
According to the Ottawa housing market report from WOWA:
The average sold price of a home in Ottawa  in December was $615,858 this month, up 16 percent year-over-year
The average sold price of condos decreased by 8 percent compared to last month, while the average sold price of a single-family home remained largely the same
Single-family home prices increased by 18 percent year-over-year to $710,000
Condo home prices increased by 12 percent  year-over-year to $39,000
(WOWA.ca is an all-in-one platform for real estate and financial technology used by over 4 million Canadians annually.)
Meanwhile, condo prices in Ottawa dropped in December 2021. The average condo sold price in Ottawa for the last month of the year was $399,125. That represents a  $32,974 drop (or 8 percent monthly decrease) compared to November 2021. Still, even after factoring in the December hit, the average sold prices of Ottawa condos was a 12 percent hike year-over-year. 
As for single-family homes, the average sold price was up 18% year-over-year.
The housing supply in Ottawa continues to shrink
Housing inventory remains low and a problem. Ottawa's housing market has less than one month's supply. This mirrors the historic lack of housing supply nationally which sits at 1.6 months nationally.
In December, new listings in Ottawa dropped by 58 percent compared to November. That's 15 percent below the average number of new listings for December from 2016 to 2021.
We expect new inventories to be almost immediately picked up by buyers, so stay tuned for what is likely to be yet another busy spring market - Farah Omran
It appears this trend will not turn around anytime soon. As Scotiabank Economist Farah Omran wrote in her January Housing Report, "months of inventory continued to decline, falling to 1.6 months in December—the lowest ever on record, far below their long-term average of five months. Months of inventory were at record lows in British Columbia, Ontario, Quebec, New Brunswick, and Nova Scotia."
A busy spring housing market is expected
As for 2022, Omran wrote that  "we expect new inventories to be almost immediately picked up by buyers, so stay tuned for what is likely to be yet another busy spring market."
With 1.8 million approved immigrants sitting in a backlog caused by COVID-19 and with the government committed to welcoming another 1.4 million newcomers in both 2022 and 2023 (and maybe more depending on growing labour shortages), the demand for housing will only intensify. 
In 2022,  Canadian home prices nationally are expected to rise by 10.5 percent overall, with Toronto, Vancouver and Halifax forecast to lead the way. 
Rent prices in Ottawa continue to rise
While homeownership is the long-term goal of newcomers to Canada, the reality is that the majority of newcomers rent when they arrive. 
As for rental prices in Ottawa, according to the most recent Rentals.ca monthly National Rent Report, Ottawa ranked ninth, with seven other Ontario cities reporting higher increases (six of those were located in the GTA). Vancouver topped the list. 
In December, the rent price for a one-bedroom apartment in Ottawa was $1,618. That's up 1.3 percent from November and up 2.21 percent year-over-year. 
The average rent for all Canadian properties is up 3.8
A two-bedroom in Ottawa in December cost $2023 to rent. That is a negligible 0.20 percent decrease. Year-over-year, the cost to rent a two-bedroom rose 1.30 percent.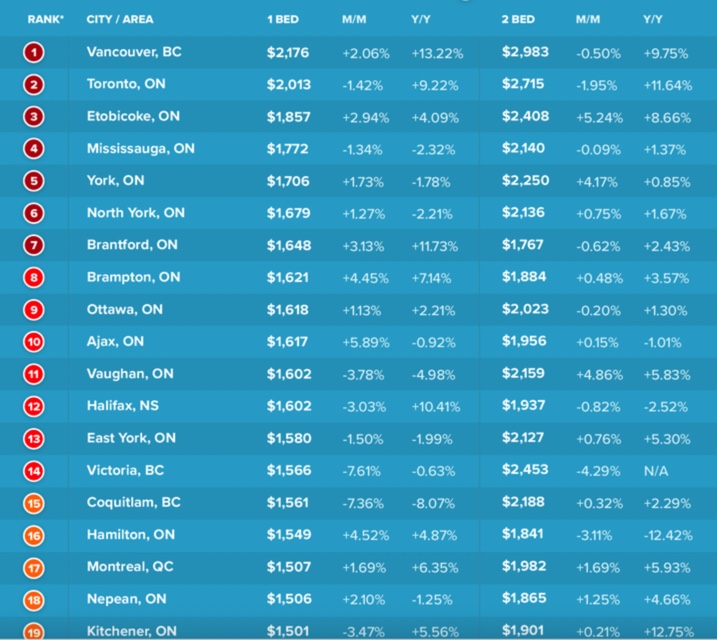 And when it comes to the average rent in Ottawa for all property types (apartment, condos, townhouses, single-family homes, etc.), Ottawa is ranking 13th in the report at $1,886 per month as of Dec. 2021. Of the 12 areas with higher rents, 10 were in the GTA. 
The average rent for all Canadian properties, reports Rentals.ca, in December 2021 was $1,789 per month, up 3.8 annually. "This is the fourth consecutive month with a positive annual change in average rent following 16 consecutive months of decline," according to the report.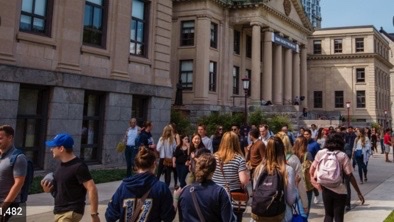 Though rental prices nationally are up In December 2021 they are still below pre-COVID-19 highs. However, the Rentals.ca reports notes that "after a tumultuous 2020 and 2021, the rental market has posted an annual increase in average monthly rental rates for four months in a row, reinforcing the notion that the rental market is recovering from the sharp 2020 declines."
A sharp decline in vacancy rates
Another rental challenge facing newcomers is the fact that the vacancy rates have fallen dramatically. The Globe and Mail reported that Toronto's apartment vacancy rate dropped to 3.1 percent in the fourth quarter of 2021 due to students and other residents returning to the city as pandemic restrictions eased. That's the lowest vacancy rate since the initial days of the COVID-19 pandemic. In the first quarter of 2021, the vacancy rate was still at 9 percent. 
Recent data from the Canadian Mortgage and Housing Corporation (CMHC) pegs  Ottawa's vacancy rate at roughly three to four percent.
And, despite uncertainty over COVID-19 and the possibility of further disruptions and setbacks, "the Bullpen Research & Consulting/Rentals.ca forecast of continued rent growth in most major markets in 2022 has not been altered."