Newcomers to Canada Face a Tightening Rental Market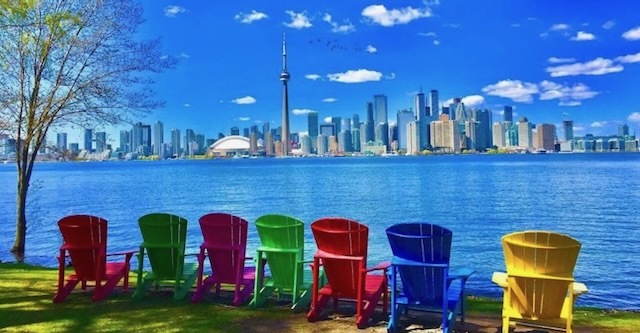 As summer approaches, rental markets across Canada are tightening with prices rising, leaving newcomers and international students arriving in this country fewer options, particularly in the gateway cities of Toronto and Vancouver.
Rental experts agree that Canada's ambitious immigration targets coupled with the flow of refugees from Ukraine and Afghanistan will have an impact on rental markets where prices are already nearing pre-pandemic levels.
Canada plans to welcome 1.3 million newcomers over three years (while clearing an estimated backlog of 1.8 already approved newcomers) the demand for rental housing will only grow, and questions persist about this country's ability to meet that demand. 
Rental listings on the downward trend
Meanwhile, a new report from the Toronto Regional Real Estate Board (TRREB) details how average rent prices climbed in the GTA in the first quarter of 2022 as the amount of available rental listings fell severely.
"Demand for rental accommodation is expected to remain strong this year and beyond, as job growth continues, immigration and non-permanent migration continues to support housing demand, and higher borrowing costs see some young people put their decision to purchase a home on hold," said Jason Mercer, TRREB's chief market analyst, 
According to the TRREB report, the average rent for a one-bedroom condo apartment in the GTA increased 17.8 percent to $2,145. That's up  $325 from the average of $1,820 in the first quarter of 2021. 
At the same time, the price of two-bedroom apartments rose by 17.2 percent year over year from $2,446 in 2021 to $2,867 in the first quarter of 2022. That's a $421 difference.
As for rents for bachelor apartments, those jumped the most, rising 23.3 percent from $1,404 in the first quarter of 2021 to $1,730 in the same period in 2022.
Prior to the onset of the pandemic, the average one-bedroom rental in the GTA in the third quarter of 2019 rented for $2,262 with the average two-bedroom going for $2,941.
As Rentsync pointed out in its Monthly Demand Report which provides data and insight for landlords, property managers and investors, "conditions suggest that Canada has likely returned to its pre-covid leasing conditions, and the supply of available units continues to decrease at a higher relative rate than that of the demand for apartments."
Immigrants looking to rent outside of the GTA or the Greater Vancouver area are also facing rent prices that are trending upward.
According to the April National Rent Report from Rentals.ca and Bullpen Research & Consulting, nationally the monthly average for a rental apartment rose by 6.6 percent year over year to $1,818, and it's forecast that rent prices will continue to rise across the country.
On an annual basis, tenants are looking at a rent that is over $100 more on average in March - Ben Myers, Bullpen
What remains uncertain is the impact of immigration, inflation, lingering COVID-19 and continuing Bank of Canada rate increases will have on rent prices for the remainder of 2022.
Ben Myers, President of Bullpen Research and Consulting said that "on an annual basis, tenants are looking at a rent that is over $100 more on average in March, compared to a year earlier, when the rental market was close to its lowest point during the pandemic."
He pointed out, however, that "the pace of growth has cooled, with relatively flat rents over the last four months. Higher interest rates and a cooling ownership housing market could push more demand into the rental market this spring."
Windsor is the bargain city for rents
Vancouver took the top spot of the 35 cities examined by Rentals.ca for average rental price growth, outpacing other Canadian cities in a 29.9% year-over-year increase to a high of $2,925.
Meanwhile, according to the Rentals.ca rent report, Windsor remains the bargain rental city in Ontario. For example, as of March 2022, a one-bedroom apartment in Windsor, Canada's southernmost city, was rented for $1,152. A comparable one-bedroom in Toronto was rented for $2,023. That's a difference of almost $900 a month.
Toronto, which is Canada's largest city, had the second-highest average March rental rates.
 A one-bedroom apartment rented in the city for an average of $2,023; a median two-bedroom rental unit rented for   $2,776, increasing by 11 percent and 16.2 percent respectively, year over year. However, compared to February of 2022, average one- and two-bedroom rental rates fell.  by one percent and 0.7 percent.
The three-year influx of 1.2 million new immigrants and the return of a record number of international students will put pressure on the demand for rental units, noted Kevin Crigger, president of TRREB, noted in the rental market report. Ontario alone is home to approximately 280,000 international students, the majority of whom rent. 
"Many of them will turn, at least initially, to the rental market," said Crigger. 
"Investor-owned condominium apartments will be a key source of rental supply in the (GTA). It is clear that rental demand is increasing relative to available units. While the homeownership market often dominates the headlines, policymakers also need to be cognizant about the need for rental housing supply as we move forward."
Bullpen Research & Consulting expects the recent trends to continue moving forward as the market continues to recover from the pandemic.
Impact of higher interests rates still unknown
Noting that immigration is expected to remain high, Myers says Bullpen expects the recent trends to continue moving forward as the market continues to recover from the pandemic.
He also says other factors driving the upward trend include higher interest rates that could discourage buying and the fact that employers are encouraging their staff to return to the office. 
"All of these factors should push up rents in the spring of 2022," said Myers.