Rents on the Rise in Canada's Major Cities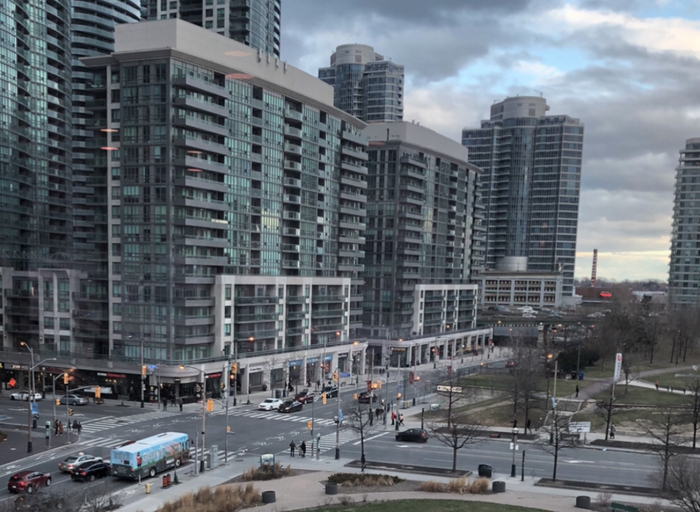 Rental prices in Canada's big cities appear on the rise and who knows how high and fast they will they go.
Perhaps only our emergence from COVID19 and the return of immigrants, students and tourists (short-term rentals) will ultimately answer this question for renters, landlords and property managers.
For now though, here's where we're at.
Toronto's rental market looks like it is finally bouncing back after more than a year of massive retreat that saw average prices reach their lowest point in over three years.
Although rents are still down year-over-year, newly published market data for April from the National Rent Report with rentals.ca released on Monday shows that Toronto rents actually went up, month over month, for the second consecutive time in 2021.
Before March, rent prices had been falling consistently for 15 months straight across Toronto.
Rent prices down nationally
Rents nationally are down but rents are up month over month in Ontario, B.C., Quebec and Alberta (and up in Vancouver, Toronto, Montreal and Calgary).
Meanwhile, liv.rent's latest quarterly report for the first three months of 2021 which examined rental prices in Canada's three largest cities (Toronto, Vancouver and Montreal) showed that Toronto rental prices have fallen below Vancouver. 
After a year of continued declines, average Toronto rent prices hit a new low of $1,704. That's lower than Vancouver's $1,783. Toronto actually came in behind Montreal as well.
According to liv.rent, Toronto has experienced the second-largest drop in rental prices among the country's major cities since the onset of the pandemic. Average prices were almost $2,000 at the beginning of 2020. They have now dropped 11.8 per cent across the city.
Immigrants, students, tourists
The liv.rent report noted that the lower rent prices in Toronto (and one presumes across the country) will continue "until travel restrictions ease, and we see the return of tourism, immigration, and international students," at which point we can likely expect them to return to more normal and higher levels.
The U.S. - Canada border remains closed, and will likely stay that way, experts say, until late summer or the fall. A lot could depend on the introduction and rollout of vaccine passports, which Canadians appear to favour.
 As for overseas travel, politicians like Ontario premier Doug Ford are demanding that the federal government put more restrictions on travellers arriving by air, especially from COVID19 ravaged hotspots like India.
Ford is also asking the federal government to require travellers crossing land borders to be part of the mandatory isolation program when entering Canada. 
According to canadiantravelnews.ca, two major newspaper reports in Canada today show, once again, that travel is not the culprit in the latest wave of COVID-19 infections.
Travel not a significant factor
A story in the Globe and Mail says Globe staff compiled federal data on airplane exposures and found that that flights bringing passengers infected with COVID-19 into Canadian airports "are now predominantly domestic routes, a trend that began around the onset of spring break."
And, says the website,  a story in today's Toronto Star states that a review of publicly available data shows that travel "represents the smallest proportion of confirmed COVID-19 cases in Ontario."
As for an imminent influx of international students, Ford, amidst criticism of appearing xenophobic, has reportedly asked Ottawa to prohibit their return at this time. Ford has said he has not "formally" asked for the ban.
Vaccine rollout programs
And, of course, tens of thousands of immigrants, pre-approved for settlement in Canada, watch and wait anxiously in their home country for our fluctuating vaccination rollout to have a significant effect on the virus, thus allowing life to return to near "normal."
Immigrants, international students and tourists (short-term rentals) will have a significant impact on rent prices, specifically in Canada's major cities. But when?
 Canada's immigration target for 2021 remains at 400,000 and just over 400,000 a year through to 2025. Those figures might go higher.
Bullpen Research and Consulting president Ben Myers, whose firm released the  National Rent Report with rentals.ca, said that "despite the continued decline in average rents on a national level, the rental market has started to turn up with rents increasing month over month in most of the largest provinces in the country," 
Speaking on a recent Rentsync podcast, Myers speculated that "when the vaccinations ramp up which, seems to be happening right now, we'll start to see people looking to get back to normal."
When the vaccinations ramp up which, seems to be happening right now, we'll start to see people looking to get back to normal" - Ben Myers, Bullpen Research
Myers also told Rentsync that people may be trying to time the market. "I think we're starting to get to that  [very lowest] point where people are saying, 'Well, this might be the lowest point that I remember ... so I'm gonna make a move with it, or do it right now."
More surveys coming
In April, rent pricing surveys from Padmapper, Urbanation and Rentals.ca all indicated, as Myers said, that rent prices might now be at their lowest point. Interestingly, a new report from Urbanation shows that since December, condo sales in Toronto have been booming, recovering from a short period in 2020 when they were more affordable and in greater supply.
Urbanation's data reveals the 5,385 condo properties sold in the first three months of 2021 is only four per cent below what was sold in the mostly pre-pandemic first quarter of 2020.
More rental reports will be out in the next few weeks from all the major players. These may confirm that the optimism that we're past the worst of the pandemic is spreading, and that rents will keep heading only one direction - up.